Best dogs for seniors: There are so many benefits when it comes to owning a dog, especially when it comes to seniors. They provide companionship, schedule a routine, relieve stress, and increase exercise, and getting out of the house. But choosing the right dog is even more important. After all, you would hate to have to chase after a rambunctious, active dog in your elder years. Unless that's EXACTLY what you want. 😎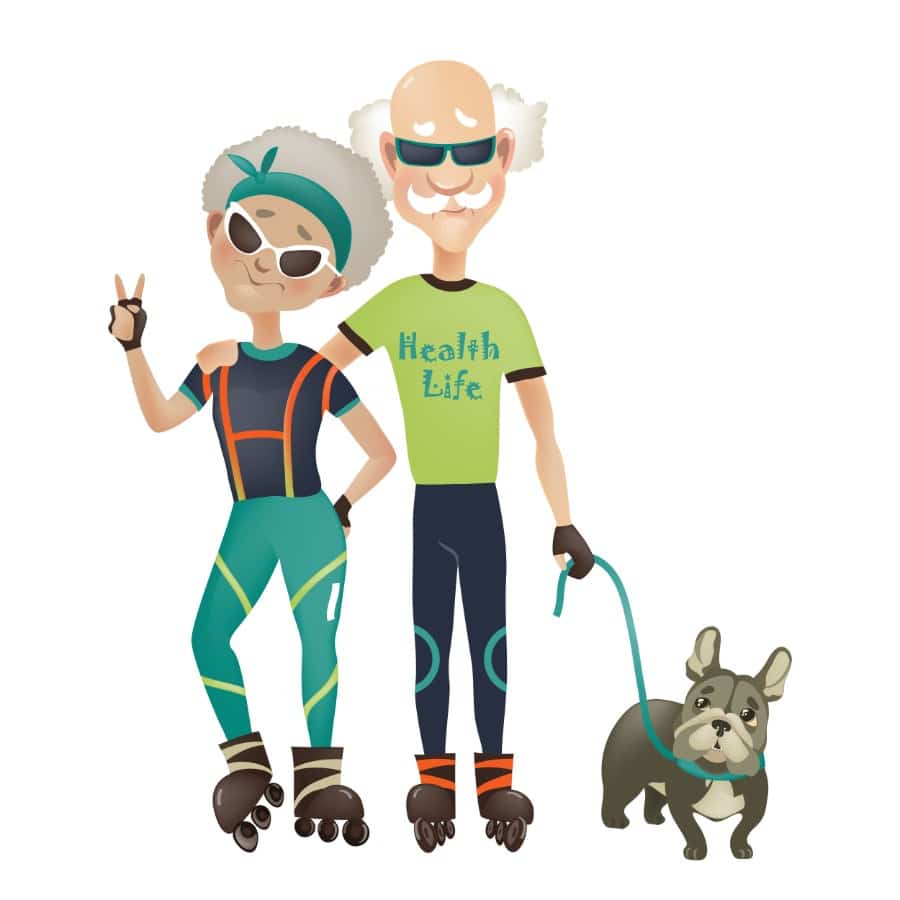 The best dogs for seniors in 2023 include:
Beagle
Bichon Frise
Boston terrier
Cavalier King Charles Spaniel
Chihuahua
French Bulldog
Greyhound
Havanese
Labrador retriever
Lhasa Apso
Maltese
Miniature Schnauzer
Pekingese
Pembroke Welsh Corgi
Pomeranian
Pug
Poodle
Shih Tzu
West Highland White Terrier
Having a dog in the home as an elderly individual is an excellent choice, but finding the right dog for your situation can be hard. We have compiled a list of the top 19 best dog breeds for seniors from big to small and all types of personality traits.
19 Best Dogs for Seniors in 2023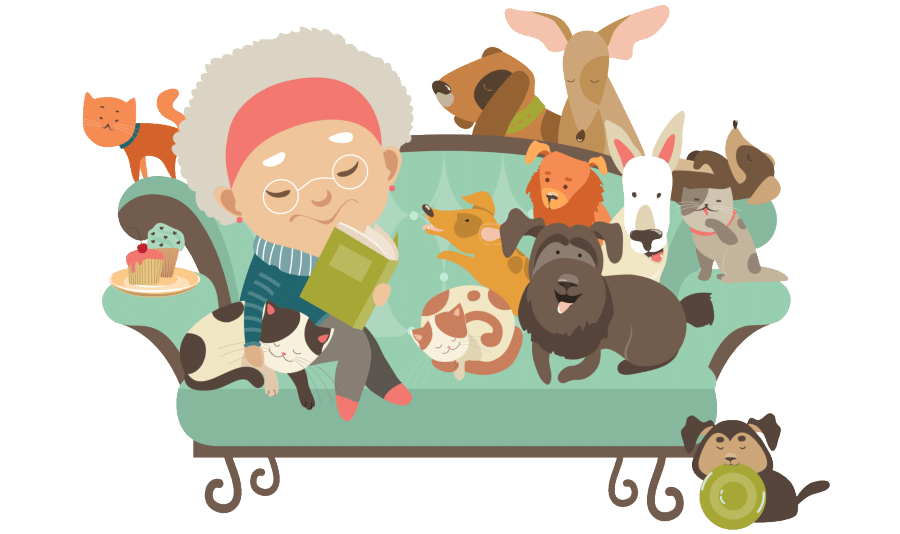 We couldn't choose the best senior dogs in order, so here they are, alphabetically:
1. Beagle
Beagles are popular — and for good reason, too.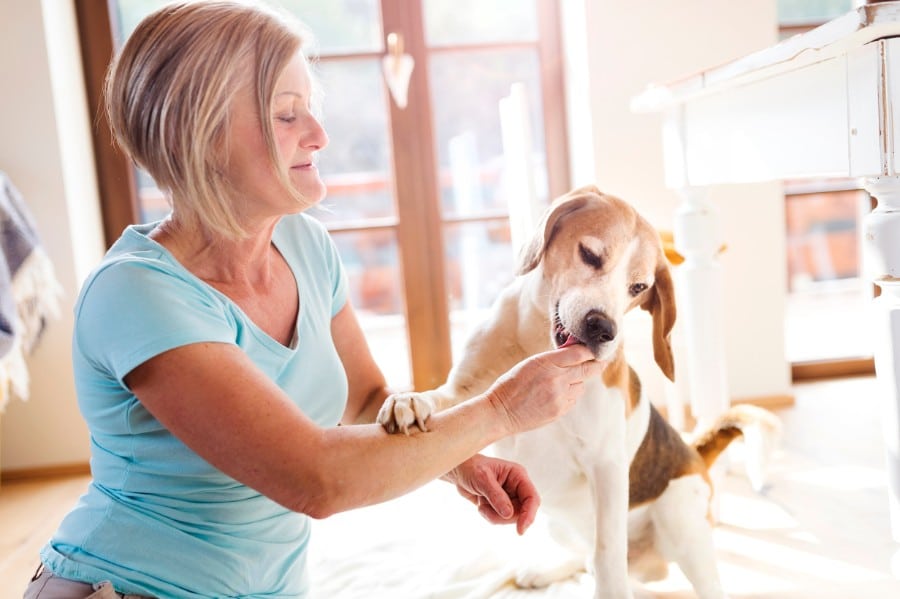 They have incredible personalities that make them sweet, gentle, and playful. However, while the Beagle might love to have a good time, he doesn't have a whole lot of energy needs and can be satisfied with simple walks. They are extremely loving to their owners and relatively healthy, too.
The Beagle is certainly known as being the "ultimate companion" and is well thought of as one of the best dogs for elderly individuals. Just be careful — the Beagle has an inquisitive nose that likes to go after scents, so ensuring he is in an enclosed area can keep him from escaping.
2. Bichon Frise
The Bichon Frise is the ideal dog for anyone looking for a small, low-maintenance, and easily adaptable companion.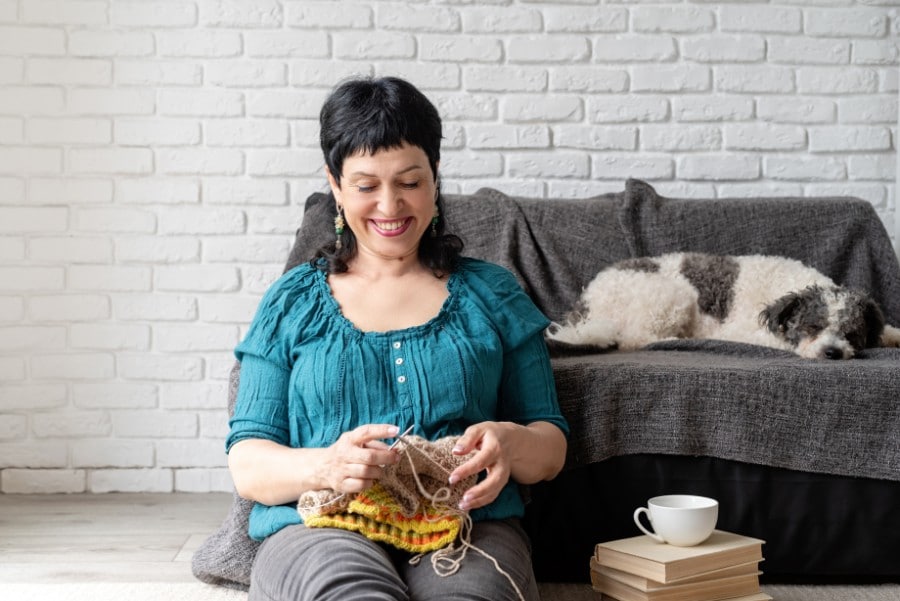 He is known to be easy to train and listens to commands readily, which is ideal for geriatric individuals. Aside from these positive traits, he is also low maintenance and only needs a brushing a few times a week. Otherwise, a trip to the groomer once every other month is enough to keep this furball happy and healthy.
With a quick look of this pet, he looks like a tiny bundle of fluff — and that's exactly what he is. His adorable looks match his just as friendly personality. He is sweet, calm, and evenly-tempered without requiring too much exercise. A quick walk around the park is enough to keep the Bichon Frise with a smile on his fluffy face.
3. Boston Terrier
There is so much to love when it comes to the Boston Terrier.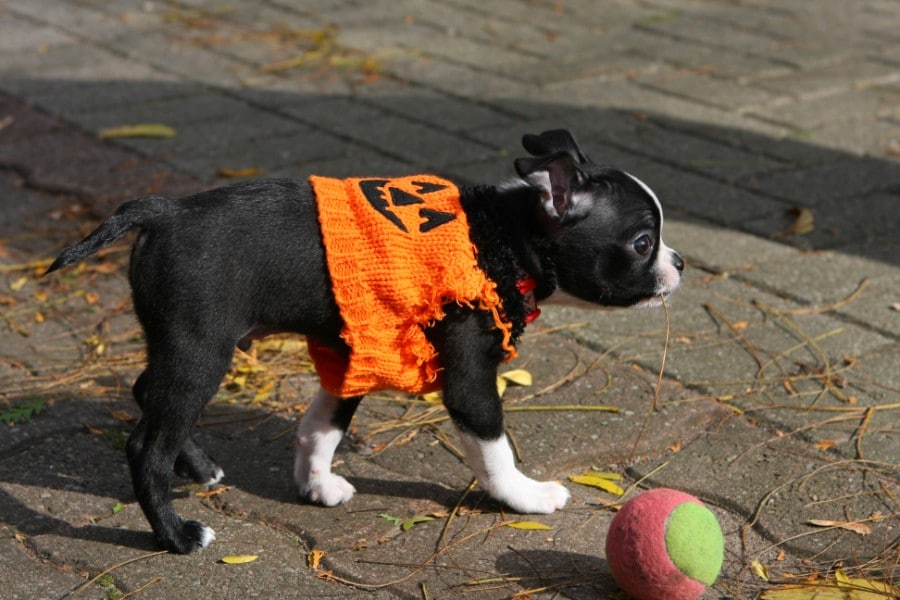 He's a medium-sized pal that is known for his loving nature and mild temper. He doesn't require much activity, and would prefer to be a couch potato with the ones he loves. What's also important to note is that he is not a big barker, making him ideal for apartments and condos — just keep him out of the heat.
The Boston Terrier is one of the easiest breeds to take care of, making him one of the best dogs for elderly folks. Mild-mannered and respectful, he is a dog that any seniors will enjoy. Their short coat also does not lend itself to immense grooming, making him an all-around easy choice for seniors.
4. Cavalier King Charles Spaniel
If you're looking for an adorable companion that has long, floppy ears and larger-than-life dark brown eyes that are the epitome of "puppy dog eyes", then the Cavalier King Charles Spaniel may be your best choice.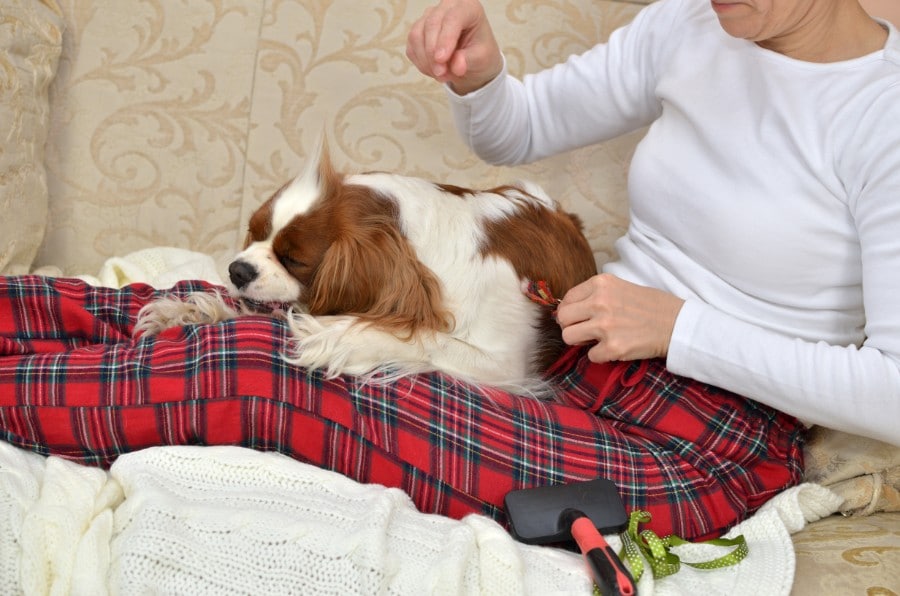 The Cavalier King Charles Spaniel is notably one of the best dogs for elderly individuals as he is not only charming, he is also affectionate and loyal.
When it comes to the Cavalier King Charles Spaniel, he is a snuggle-buddy at heart. He would much rather be balled up on the couch with his owner than out and about on a mission. Training and listening are also a cinch for this loveable breed, making him a top-notch choice for elderly folks. Just make sure to groom him regularly and clean his ears to keep him healthy.
5. Chihuahua
One dog that everyone turns to is the Chihuahua — (or 7 Chihuahuas) — and for good reason, too.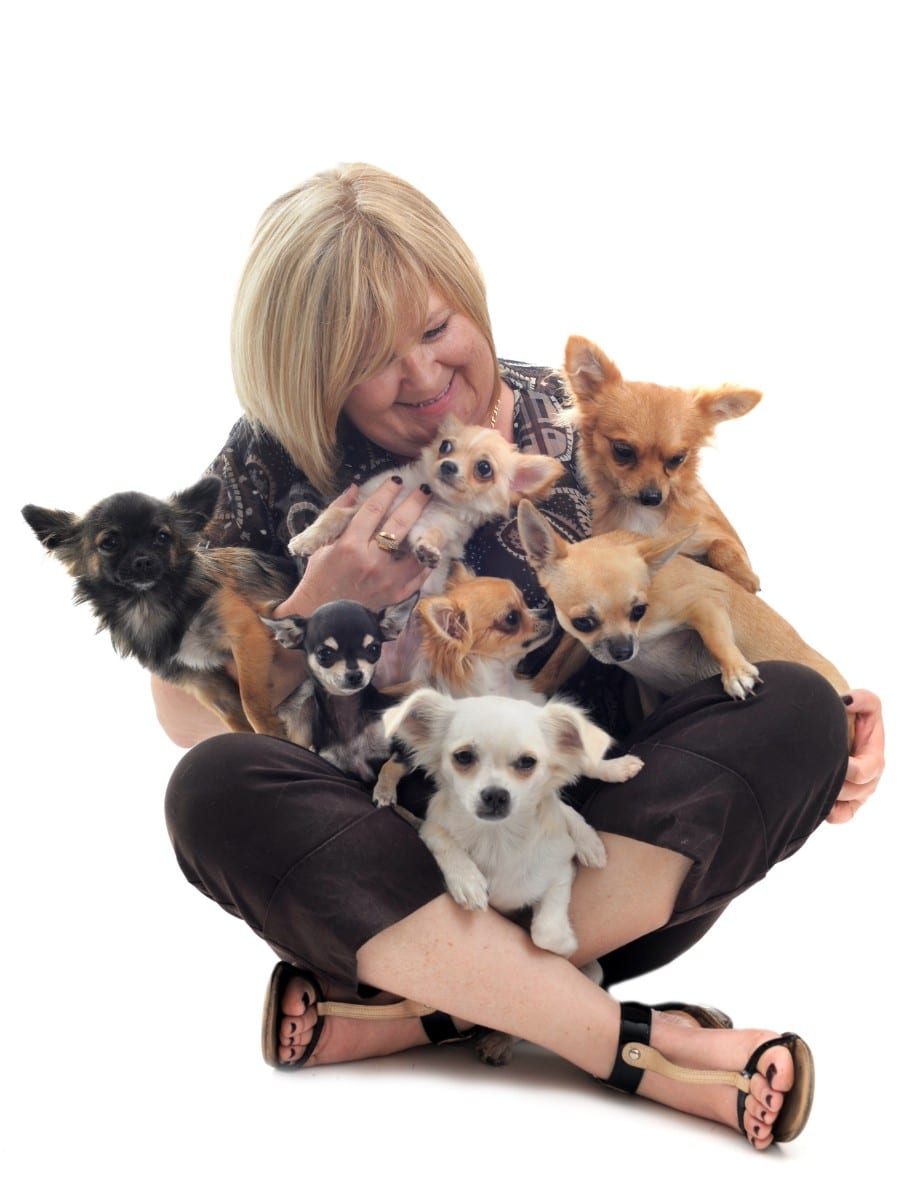 Anyone can feel confident with bringing this dog breed home. They are unmatched in their loyalty and fun-loving nature. Everyone knows that the Chihuahua makes a superb companion, which is why he is great for all situations and continues to be one of the best dog breeds for seniors.
But while the Chihuahua is a loyal, tiny guy who loves to snuggle and have fun, there's one major drawback — he's also fierce. While he won't be aggressive towards his loved ones, he can be a bit rambunctious and rude with strangers and especially mean when there are other animals present.
6. French Bulldog
French Bulldogs are known for being "one of the happiest" breeds on the planet.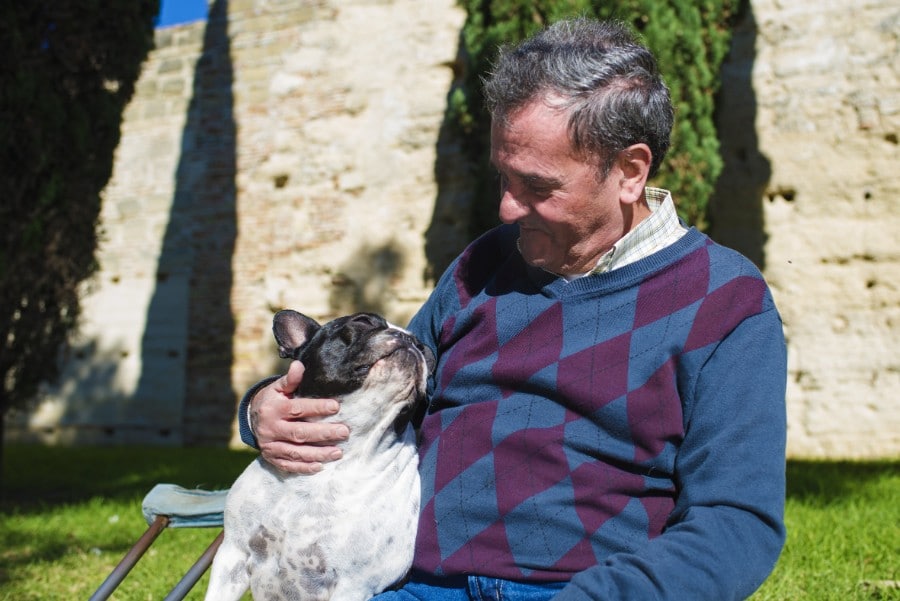 Their fun-loving, goofy personalities will put a smile on anyone's face. They are a bit bulky and muscular for their size, but don't think that it is too much for an elderly individual to handle.
The French Bulldog is undeniably one of the dog breeds for seniors because he is always happy and ready to have a good time with his owner. The only subtle drawback is that he is a bit more energetic than other breeds mentioned on this list. His endurance remains low, though, so taking him for a walk daily is enough to keep his rather energetic personality happy.
7. Greyhound
It may come across to see this rather large racing dog on the list of best dogs for elderly people — but the truth of the matter is, he is certainly one of the best.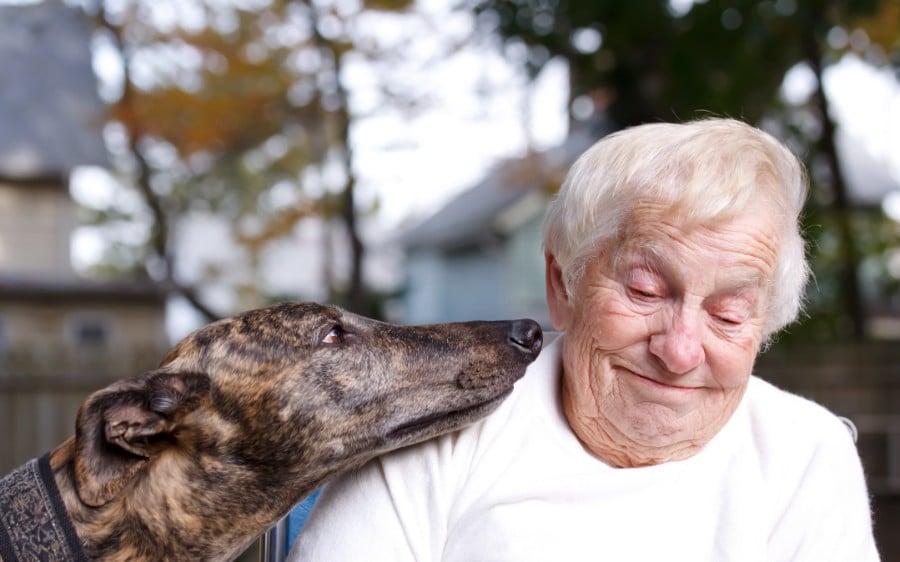 Just because this dog can run as fast as speeding light, doesn't necessarily mean he is a high-energy pup. In fact, the Greyhound is fine with a daily walk and spending most of his day relaxing on the couch — although taking him to a dog park to get a good run in here and there is ideal.
If you're looking for a larger dog breed to have in the home as a senior, the Greyhound is an optimal pick. Not only is he a cuddly companion, he is also a great listener and easy to take care of. Low maintenance and responsive, it's easy to see why he's one of the best dog breeds for seniors.
8. Havanese
Take one look at a Havanese and there is something you will notice right away — it's as if he is saying "Love me, please!"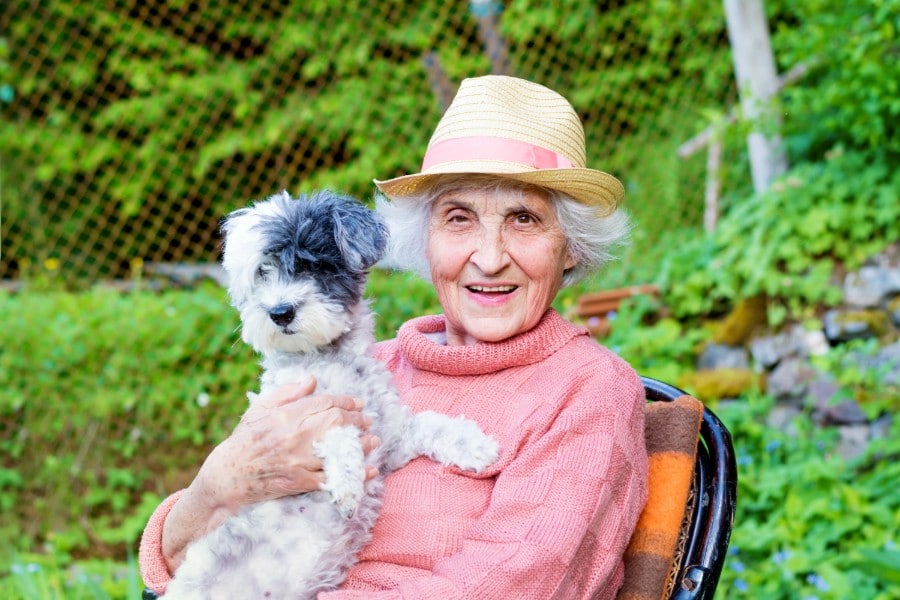 The look on the Havanese matches his somewhat needy personality. He enjoys staying right next to his owner for hours on end and hates to be alone, which is why he ranks highly on the best dog breeds for seniors.
The good news is that although he is needy, he is a great respectable pup to have around. With superior listening skills and the ability to be trained quickly, seniors will love having the Havanese as their best friend.
9. Labrador Retriever
More active seniors who want a larger dog breed will find refuge in the Labrador Retriever. He is a warm, friendly dog, but he does need a lot of exercise to keep him happy. The good news is he loved a good game of fetch, so owners can toss the ball and have their dog chase it to get rid of extra energy.
10. Lhasa Apso
Known for their gorgeous, long coats, the Lhasa Apso is quite a sight to be seen. He has long, flowy hair that is humanlike. But while many are fond of this gorgeous, lengthy coat, one must also keep in mind that the Lhasa Apso requires baths every two weeks and plenty of brushing in between.
Aside from coat maintenance, the Lhasa Apso is highly intelligent and a bit on the active side. The good news is, he can usually run off some energy running around on his own. However, he will need mental stimulation from toys and games with his owner — which can be great for getting an elderly individual to expel a bit more energy and have some fun.
11. Maltese
Similar to the Bichon Frise, the Maltese is another one of those popular tiny furballs that make excellent dogs for seniors. The dog typically only weighs around 4 to 7 pounds, making him a breeze to carry around — even for those who may be weak or suffering from joint pain. He is also a top-notch learner and listener, so taking care of the Maltese is easy.
As far as exercise is concerned, the Maltese isn't very demanding. He would much rather sit on his owner's lap than go out and about. However, a short walk here and there will keep him in good health. He also needs to be groomed somewhat regularly. Much like the Bichon Frise, he benefits from a few brushes a week and a trip to the groomer once every other month.
12. Miniature Schnauzer
His beard might make you think the Miniature Schnauzer is all business, but he's actually tons of fun. Looks are definitely deceiving when it comes to this cutie! The Miniature Schnauzer is known for his playful personality and he can be in any home whether it's a house with small children or an apartment with an elderly individual.
What's nice about the Miniature Schnauzer is they are really easy to take care of. They listen well and love to have a good time no matter what they are doing. They don't require a whole lot of exercise or stimulation and even their grooming needs are low maintenance. Together, these traits make him one of the best dog breeds for seniors.
13. Pekingese
The slow-moving Pekingese is the epitome of lapdogs. He is slow to move, therefore, does not require a whole lot of exercise or activity. Sleeping on his owner's lap is one of his favorite past time activities, so be prepared to have a snoozy, snuggly, somewhat stubborn pup when you opt for the Pekingese. Keep in mind, though, he will need to be brushed daily to keep his coat healthy.
14. Pembroke Welsh Corgi
When it comes to finding the best dog for elderly individuals, you can't go wrong with the Pembroke Welsh Corgi. With a smile on his face 24/7 and a quirky appearance due to his short legs, he's the type of dog that will cheer you up no matter what's going on. The Pembroke Welsh Corgi is certainly known for not only being a major goofball, but a superior companion, too.
In terms of obedience, the Pembroke Welsh Corgi is unmatched. He learns well and listens with ease. However, his hunting background can leave him being a bit more energetic and curious than the other dogs on this list. As long as he gets the exercise he needs, though, he is a real treat to have in the home.
15. Pomeranian
This tiny, lion-like dog breed is a dog that any elderly individual will enjoy having in his home. Weighing in at 4 to 7 pounds, he's a miniature pooch that requires regular grooming to keep his coat looking beautiful and fluffy. Aside from grooming needs, the Pomeranian is fairly low maintenance. He isn't too energetic, although he does love to play with a few good toys.
All in all, the Pomeranian is a wonderful companion and truly thrives on spending every waking moment with his owner. He is a loyal little fellow that will love spending time with you, making him one of the best dog breeds for seniors.
16. Poodle
Poodles are not only one of the best dogs for elderly individuals, but they are also one of the most popular — whether you're elderly or not! With a tight, curly coat and an unmatched brain capacity, the Poodle is not only fun to look at, but is known as being one of the smartest breeds in the world. No wonder why he is found in so many homes!
The Poodle is a real sweetheart. He is loving and adoring of his family and will enjoy doing a plethora of activities, whether it's a brisk walk around the block or watching a few good cooking shows on TV. He does need a little bit more grooming than other breeds, but it's well worth it to have such a sweet and respectful pup in the home.
17. Pug
His adorable smashed face is what draws so many people to this adorable pup, but they stay for his awesome personality. The Pug is a lazy guy who doesn't enjoy exercise or the heat. That being said, he prefers to spend all of his time inside doing absolutely nothing — well, maybe a game with his owner here and there is alright.
The Pug is not only an even-tempered pooch, but he is also quiet and doesn't need much grooming at all. With all of these characteristics in mind, it's no wonder why the Pug ranks highly and one of the best dog breeds for seniors.
18. Shih Tzu
Due to his small stature and long, delicate, human-like hair, the Shih Tzu is an obvious top pick for seniors. But seniors should be aware that although the Shih Tzu is small, he considers himself "tiny but mighty". What this means is he can be a bit stubborn at times — but with proper training, these "temper tantrums" should be kept to a minimum.
The Shih Tzu is a bit more active and requires regular grooming, much more than the other breeds listed here. He might enjoy longer walks and he will need to be brushed to avoid tangles and knots. Remember, his hair is human-like — which means he is great for any elderly who suffers from allergies — but he needs adequate grooming.
19. West Highland White Terrier
The West Highland White Terrier might look exactly like the Maltese or Bichon Frise, and you'd be half right. The West Highland White Terrier shares a fluffy white coat like the other aforementioned breeds, but the Terrier tends to be a bit larger size. He can weigh anywhere from 13 to 20 pounds, rather than the 4 to 7 counterpart breeds.
As far as personality and temperament are concerned, the West Highland White Terrier is much like the Maltese and Bichon Frise. He is a calm, friendly fellow who will enjoy simply spending time with his owner.
Conclusion
Owning a dog as an elderly individual comes with many perks — as long as you find a breed that's ideal for seniors. Any of these dogs on this bed dogs for elderly folks list will serve you well, whether you opt for the adorable, lazy Pug or the bit more active Shih Tzu.
Related Questions
What breed of dog is best for seniors?
The top 5 dog breeds for seniors are:

1. Maltese
2. Cavalier King Charles Spaniel
3. Poodle
4. French Bulldog
5. Pug
What is the best dog for an elderly woman?
Beagles are the best dogs for elderly women. The 5th most popular dog breed in the United States is low maintenance, a cuddle bug, and a great watch dog.
What's the most low maintenance dog?
The Maltese dog is a low-shedding dog that only needs occasional exercise to keep them healthy and happy.
Is 67 too old to get a dog?
Absolutely not! Rescue dogs are perfect for 67 year olds. Even easily-trainable puppies (like Poodles) are great because, like older people, puppies thrive best with a schedule.