Best small dogs for hiking? Hiking enthusiasts might think that they can only bring a big dog on a hiking excursion. But this is simply not the case. Even smaller breeds can be excellent hiking pals – you just have to make sure you find the right one. Not every snuggly lap dog is going to want to go on an exciting jaunt!
The 20 best small dogs for hiking are:
Alaskan Klee Kai
Beagle
Cairn Terrier
Chihuahua
Dachshund
Jack Russell Terrier
Miniature Australian Shepherd
Miniature Pinscher
Miniature Poodle
Miniature Schnauzer
Norfolk Terrier
Norwegian Lundehund
Papillon
Pembroke Welsh Corgi
Pomeranian
Rat Terrier
Schipperke
Shetland Sheepdog
West Highland White Terrier
Yorkie
If you're ready to bring your tiny-but-mighty pooch along for your next hiking adventure, you have come to the right place. This blog is going to share the top 20 small dogs for hiking. Some of the answers might surprise you, but in the end, you will find your next hiking buddy.
20 Best Small Dog Breeds for Hiking in 2023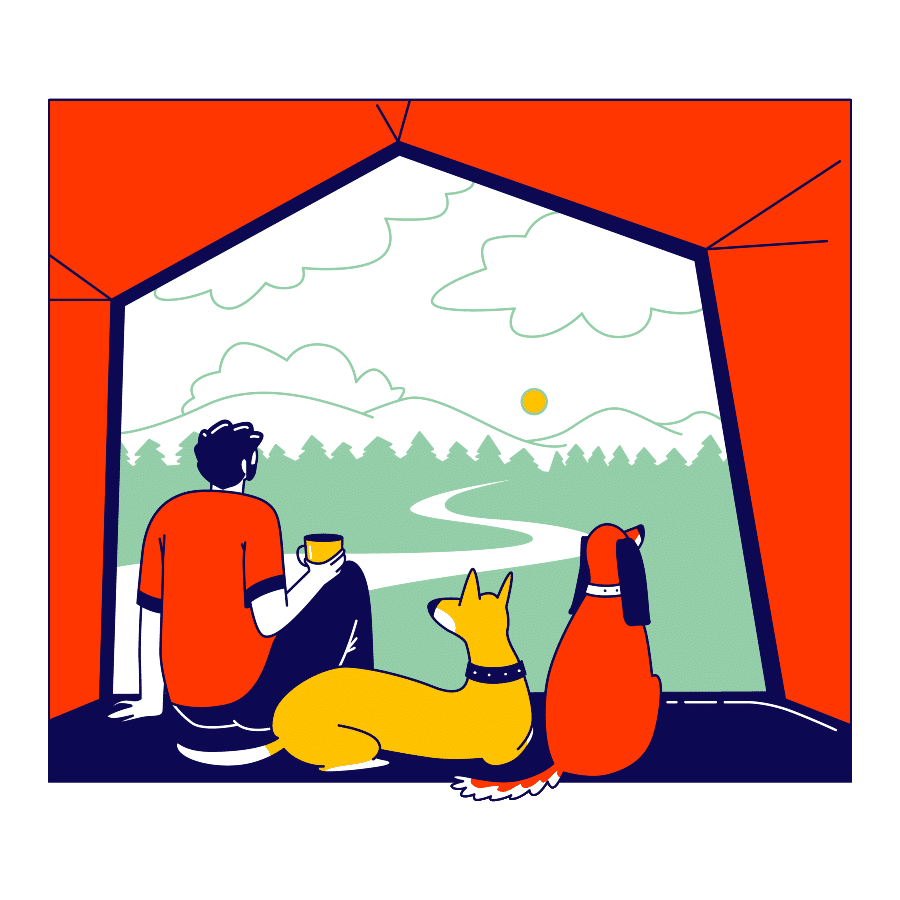 Not every small pooch is designed for hiking trips – but you will be glad to know that there are a lot of breeds that can! Here we are going to share the 20 best small dogs for hiking. These small-sized adventurers are designed to be able to handle the trails and be a hiking buddy you will thoroughly enjoy bringing along on an adventure.
A few tips before we dive in:
Bring plenty of food and water on your trip.
Start off with a shorter trail and work up the endurance.
Watch for signs of weariness in your small pooch.
Consider a trail that is clearer and with less elevation, especially at first.
Arrange breaks along the way to cool down and refresh.
Consider bringing a backpack to carry your pooch when he tires out.
1. Alaskan Klee Kai
The Alaskan Klee Kai was originally bred to look just like a Siberian Husky, only pocket-sized. (It is not a miniature Husky, though). The fierce appearance alone is enough to pique your interest with this dog. But his agility and ability are what make him an excellent hiking partner. He is also designed with a double coat that's ultra-thick to take on cool weather and snowy hiking trails.
2. Beagle
The Beagle is a tracking hound. With that being said, he loves the great outdoors. That also means that a leash is an absolute must. When he finds a scent, he will want to chase it. With the Beagle being a gentle and loving dog, he is also known for selective hearing – and he won't want to listen when he is following his nose. Keep him on a leash and the two of you will enjoy endless adventures.
3. Cairn Terrier
This breed is known for being the oldest of the Terriers. With his terrier background, he is known for his keen sense of smell. Taking the Cairn Terrier on a hike is an excellent idea. During the hike, he will not only be able to release some pent-up energy but will also be able to follow his nose. This will make for a very satisfying trip for you and your Cairn Terrier.
4. Chihuahua
Is there anything the Chihuahua can't do? This intelligent, feisty, yet quirky and comical breed is known for being the smallest breed according to The Kennel Club. But don't let their small stature fool you. This breed loves a good hike and especially loves basking in the sun. The good news is, if your pooch tires out, he only weighs around 5 pounds and can be carried along for the rest of the jaunt.
5. Dachshund
This little Weiner dog might not be your first choice when it comes to the best small dogs for hiking. But the fact of the matter is, his short stocky legs can't stop him from anything. This is a dog who not only has a striking, fun personality, but he also has a lot of heart and tenacity. He will easily become your best friend and hiking buddy to the end.
6. Jack Russell Terrier
The Jack Russell Terrier is known for being extremely active and hard-working. That is why he thrives best when he is given an ample amount of exercise, and this can easily be accomplished on a hiking trail. Just know that the Jack Russell Terrier loves to chase – so you might want to keep him on a leash during your excursion. Otherwise, this beloved breed will take off for the hills.
7. Miniature Australian Shepherd
The Miniature Australian Shepherd is as adorable as he is intelligent. He is known for being one of the easier small breeds to train and he is a top-notch listener. He enjoys going on adventures with his loved ones, which is one main reason why he should be added into your hiking team. His background gives him a load of endurance that can take on almost any hiking trail.
8. Miniature Pinscher
Also referred to as "Min Pins", this beloved character is anything but a lapdog. In fact, he can easily be referred to as one of the most active breeds in the toy collection. It's almost as if this pooch runs on batteries. He is always up for an adventure and will likely want to keep playing even after the hike. Keep a leash on this inquisitive little stubborn guy and you'll have endless fun adventures.
9. Miniature Poodle
The Miniature Poodle is known for his high intelligence and can be easily trained, just like his Standard Poodle counterpart. And while he is not a great guard dog, he is a wonderful hiking pal. With a duck hunting background, the Miniature Poodle is a lover of outdoor adventures, especially when it involves water. Try and find a trail that leads to a lake and you will have one excited and happy pooch.
10. Miniature Schnauzer
Plenty of people adopt the Miniature Schnauzer because of his unique appearance. But what makes them fall in love is their friendly and fun personalities and willingness to obey commands. But it's not all fun and games with the Miniature Schnauzer. He is also a curious fellow who will want to find something to chase after. Keep his curiosity in line during a hike by keeping this adorable guy on a leash.
11. Norfolk Terrier
This particular breed is known for being the smallest, yet most even-tempered of all of the Terrier breeds. He is courageous yet calm and loyal to a fault. He's a loyal little fellow that thrives on canine and human companionship. This means that you can easily bring along another dog on your hiking excursion and the Norfolk Terrier will be as happy as can be.
12. Norwegian Lundehund
Unfortunately, the Norwegian Lundehund is a rarer breed that will cost a pretty penny to own. But if you can shell out the extra cash, you will be very happy with your choice. He is the ultimate when it comes to a hiking buddy. His unique characteristics – including the ability to turn his head backward and turn his forelegs at a 90-degree angle – allow him to jump, climb, and hike with ease.
13. Papillon
The Papillon can be spotted a mile away due to their triangular-like ears that give them their name "Papillon", which is butterfly in French. Aside from their unique appearance, the Papillon is an adventurous guy who needs exercise in order to keep him from becoming bored. That being said, he makes a top-notch hiking companion that might need a little help here and there. Good thing he only weighs around 8 pounds!
14. Pembroke Welsh Corgi
The Corgi, otherwise known as the "Dwarf Dog", is another small dog with short, stumpy legs. This might deter you from taking the Pembroke Welsh Corgi on a hike. But don't worry – this herder is ready for the challenge of just about any trail. Keep in mind, though, that he is a bit of a stubborn and snippy fellow. He needs proper training and socialization to keep him from barking or acting aggressively towards others on the trail.
15. Pomeranian
Known as the "little dog who thinks he can", it's easy to see why the Pom-Pom is a top pick for a small dog who enjoys hiking. His heart is as bold and vivacious as his lion-like coat, but he will need a strong owner to take on his strong, stubborn personality. As long as you train him well, the Pomeranian will be a fun and loving pooch who will enjoy hiking trails day in and day out.
16. Rat Terrier
The Rat Terrier is one of the friendliest dogs you will ever run into. They also have a high level of stamina paired with a genuine love for the outdoors. These two traits combined, the Rat Terrier makes for a fun hiking pal that will have you feeling lighthearted and happy the entire time.
17. Schipperke
Mischievous attitude and manipulation is the name of the game when it comes to the Schipperke. He is also known for his incredibly high energy levels, which is why taking him for a hike is an excellent choice. This will help to stimulate his mind, encourage bonding, and also release some of that intense energy that has led him to the nicknames "Little Black Fox" and "Tasmanian Black Devil".
18. Shetland Sheepdog
The Shetland Sheepdog is known for his high intelligence and eagerness to please his owner. Paired with an adventurous mind, the Shetland Sheepdog easily becomes the perfect hiking partner. He also has a herding background, which means he is naturally able and willing to take on longer hiking strides and enjoy every minute of it.
19. West Highland White Terrier
As far as the West Highland White Terrier is concerned, he's not just an adorable bundle of white fur – he is also a confident, smart little guy that is commonly referred to as "jolly". Aside from being a playmate, he is also a lover of adventures. Taking him on a hike makes for a truly enjoyable time. His hunting background gives him plenty of endurance, too, so don't worry about this little one tiring out.
20. Yorkie
The Yorkie is a little cutie with a brave heart. He is known for being fairly inquisitive and enjoys following his nose. For that reason, he makes an excellent hiker. Just make sure that he is kept on a leash at all times. If he finds a scent he's really interested in, he's prone to darting away. That is one quick way to bring a hiking trip to a halt.
Small Hiking Dogs FAQ
Can small dogs hike long distances?
One concern a small dog owner might have is whether or not their small pooch can handle long distances. The answer is simply – yes. Although small in stature, the dogs on this list have incredible endurance that allows them to take on long trails. They can even tough it through rough terrain. Think of these smaller breeds of having the determination of a large dog and you won't be so concerned.
What is the best trail dog?
Small dogs not really your thing? Don't worry – there are plenty of options when it comes to big dogs that make excellent hiking buddies. For a quick look, here are the top 5 best big dogs to take hiking – Labrador Retriever, Golden Retriever, Border Collie, Vizsla, German Shorthaired Pointer, Australian Cattle Dog, and Weimaraner.
Do dogs need shoes for hiking?
Shoes are not absolutely necessary when taking a dog for a hike. But they are recommended. This is because a pair of shoes or "booties" can protect their paws, especially during longer jaunts. A pair of shoes will protect your dog from all sorts of undesirable things such as thorns, rocks, and sticks. It will also reduce the chance of blisters and cracks in the paw pads.
Should I take my dog on a hike?
Yes! Hiking with your pooch is a wonderful activity. Not only does it release some pent-up energy your dog may have, but it also works as a bonding experience. Your dog will also get to enjoy the great outdoors and let his curiosity run wild. Some dogs will also enjoy agility training while others enjoy sniffing the world around them.