What Happens to My Dog When She Gets Older?
Physical changes in your dog's anatomy, when aging, can include:
Worn teeth – from years of chewing.
Arthritis in the joints – due to years of movement.
Inability of the body to quickly repair cuts and bruises.
Slower bodily reaction towards environmental changes.
Sensitive stomach – due to years of processing food.
Heart disease…because all you've put him through 😉
A senior dog is less active, which requires its food to contain slightly more protein and fewer calories.
Is Senior Dog Food Necessary?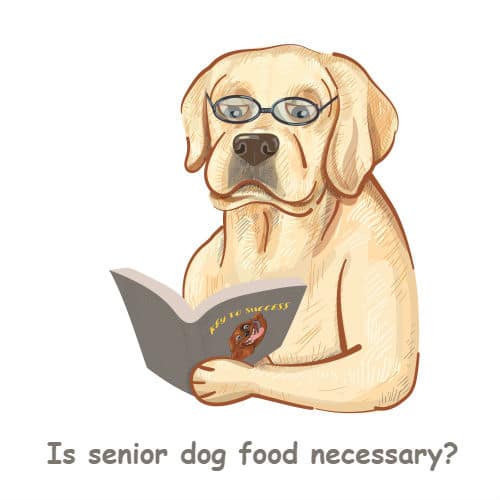 Yes. In almost all cases a senior dog, just like an elderly human, has different digestive capabilities.
The two most common adjustments needed in the food for senior dogs are:
Calorie adjustment (less fat and carbohydrates).
Increase in fiber. Constipation is a pain in the butt (excuse the pun), especially for older dogs.
High quality, easily digestible animal protein is next.
It does not overtax the kidneys unless the dog has a pre-existing kidney disease. In fact, it guards against lean body mass loss.
Sarcopenia is the gradual loss of muscle mass as the dog ages. It cannot be stopped but the effects can be alleviated with a high, easily digestible protein food.
Lower sodium is advised to guard against the risk of heart disease.
Older dogs also need more water than when they were younger. With age, the dog's ability to maintain a healthy water balance is reduced.
Senior vs. Regular Dog Food
1. How is the Senior Version Different?
Side by side comparison of the same brand should show a difference between "senior" and "regular" dog food composition.
So, how is senior dog food different? Senior dog foods should contain less fat, less sodium, more fiber and either the same or slightly more protein than the regular kind of dog food.
The protein needs to be easily digestible.
Several supplements should be present, although here the difference could be breed specific.
Whatever the ingredients and whatever the style (dry food, wet food) the best foods are labeled "complete and balanced".
This label can only be used by the manufacturer if the food:
Meets one of the Dog Food Nutrient Profiles that was established by the Association of American Feed Control Officials (AAFCO); or
Passes a feeding trial that uses AAFCO procedures.
For a product to meet one of the AAFCO nutrient profiles, it must contain every nutrient listed in the profile at the recommended level.

AAFCO established two nutrient profiles for dogs:
One for growth and reproduction [G] (puppies, pregnant, and nursing animals)
And one for adult maintenance [M].
Although there is no specific profile for older dogs, there is a benefit to buying an adult dog food product with this label than any other.
2. Main Benefits of Senior Dog Foods
Because their needs are different from adult dogs and very different from puppies, food tailored to treat specific health conditions is often formulated for aging dogs:
Glucosamine and chondroitin sulfate supplements promote healthy joints due to arthritis and a benefit to mobility.
Old dogs are more susceptible to diabetes and need a specially formulated food that is absorbed at a slower rate. This prevents blood sugar from rising too quickly.
Essential Fatty Acids (EFAs), or Omega-3 fatty acids keep cognitive functions going, are anti-inflammatory and keeps the dog's skin and coat healthy and shining.
Food for older dogs should not have have wheat, corn, soybean or gluten and certainly no unspecified "by-products".
When to Switch to Senior Dog Food?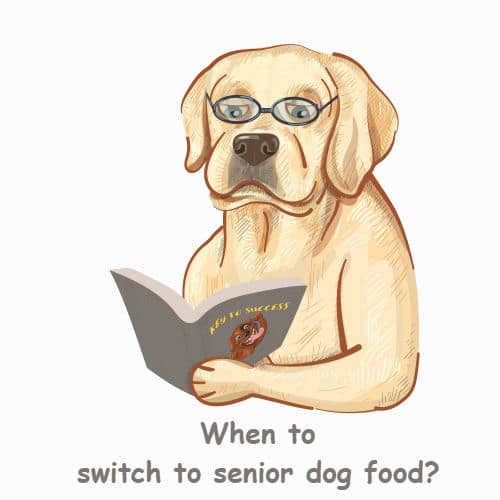 Depending on the breed, your pet pooch will reach his elderly years:
Small/Toy Breeds = 9 to 13 years
Medium-Sized Breeds = 7 to 10 years
Large/Giant-Sized Breeds = 6 to 8 years
This is when you need to start looking at better quality food more suitable for the lifestyle of senior dogs.
Apart from good old-fashioned TLC and healthy exercise, food plays a very important role in keeping your aging dog in tip-top shape for his golden life stages!
How Much to Feed Older Dogs
Before we know how much to feed a senior dog, we need to answer the question:
Do older dogs eat less? Not necessarily, but usually. And if they do not, they usually should.
It is a good option to let your vet determine your dog's Body Condition Score (BCS). On this basis together with information of its general health condition, an appropriate diet can be worked out.
Feeding twice a day is normally recommended but the amount and kind of food can be different for individual dogs.
An old dog that cannot (or does not want to) exercise so much any longer should be given less food that when it was younger. Obesity occurs very easily and is a killer – especially for older dogs.
Fewer treats is a no brainer.
Treats must be as cautiously selected for nutritional value as regular food. More experts are suggesting that you give your dog berries, apples and carrots as treats. These are high in antioxidants, low in calories and can benefit memory and cognition.
It should be calculated as a part of its daily food intake, not extra.
Things to remember as dogs age:
They may have blunt teeth
They usually have a reduced sense of smell and taste (just like people…), so…
It may be a kind thing to occasionally indulge them in canned food (wet) rather than senior dry dog food.
All canned food has a very high water content, which is bad for the value for money equation, but good for the old dog. You do have to consider that the dog may like it so much that it may stop eating the regular old stuff!
Best Senior Dog Food for Sensitive Stomach
An upset stomach can cause uncomfortable situations for your dog such as:
Constipation
Diarrhea
Vomiting
Over-excessive flatulence
Loose stools
Stomach cramps
Most stomach symptoms can be traced back to a diet not suited for your old dog.
There are exceptions to this rule, which include diabetes, obesity, kidney diseases, poor liver function, or poor food absorption issues.
If you think your dog has an underlying issue, consult with your Veterinarian.
1. Taste of the Wild Pine Forest Venison
No products found.
Microorganism is a probiotic ingredient and helps with developing good bacteria in your senior dog's intestine.
Not only does this food contain venison, but also tomatoes and blueberries, which sound so good, even a human would want to eat it too
Protein: 28% Fat: 15% Fiber: 4.5%
2. Wellness Simple Natural Ingredients Senior Dry Dog Food L.I.D.
No products found.
Reduced ingredients cater to digestive health issues, keeping what goes into your senior dog's mouth simple and natural.
The Wellness Simple Duck & Oatmeal Formula does not contain any grains or gluten, nor does it contain any colorants or flavorings.
Also great?
No products found..
Protein: 21% Fat: 11% Fiber: 4.75%
3. Nature's Variety Instinct Raw Boost Grain Free Chicken Meal Formula Dry
No products found.
To help support brain and eye health, the kibble contains DHA.
Nature's Variety never heats their ingredients, because they believe that it diminishes the natural ingredients of the pet food.
They try to stick close to the way nature has intended dogs to live, as they believe plant-based protein ingredients is not exactly the same as high-protein raw meat. They provide non-GMO pet food products in their recipes.
This is definitely an interesting brand!
Protein: 33.5% Fat: 10.5% Fiber: 3.5%
4. Hill's Science Diet Adult 7 Plus Active Longevity Small Bites
No products found.
This veterinary formulated senior recipe is clinically proven to have health benefits such as healthy skin and coat as well as supportive joint health remedies.
Their food has no artificial flavor, preservatives or colorants.
Protein: 19.6% Fat: 14.9% Fiber: 2.4%
5. Blue Buffalo Basics (LID)
No products found.
This food boosts (un) healthy joints, protects against heart disease and improves immune functions.
Formulated with the help of veterinarians and nutritionists, Blue Buffalo has "LifeSource" bits which are a blend of vitamins, minerals, and antioxidants.
Made of turkey, LifeSource bits are cold pressed, ensuring that nutrients do not lose their value due to heat emissions.
Protein: 18% Fat: 10% Fiber: 7%
6. Canidae Grain Free Pure Meadow Senior
No products found.
Canidae uses whole foods, which makes digestion a lot easier.
Canidae Pure Meadow Senior also has probiotic which helps to nurture good bacteria in a weak stomach.
Protein: 28% Fat: 10% Fiber: 5%
7. Merrick LID Salmon & Sweet Potato Recipe
No products found.
There is a brand comparison chart on the Merrick website which you can use to compare your dog's current food against Merrick.
Merrick sources their fresh ingredients from local farmers in the area.
Protein: 25% Fat: 13% Fiber: 3.5%
8. Nutro Original Senior: Chicken, Whole Brown Rice & Oatmeal Recipe
No products found.
Nutro states it is the best dog food company because it promises these 4 things:
A healthy coat
Great skin
Firmer stool
Better digestive health
Nutro's mantra is:
A healthy pet is a happy pet.
…and they leave no stone unturned when it comes to:
Sourcing the fresh ingredients of the food back to its routes
Improving on safety regulations within their company
Helping out in the community by getting involved in projects such as restoring local dog parks
Protein: 23% Fat: 13% Fiber: 4%
9. Avoderm Senior Chicken Meal & Brown Rice Formula

No products found.
Avocado is a great source of vitamins C, A, B6 and E. It contains essential fatty acids too and is high in fiber.
You might think that avocado is not good for dogs, but studies have shown that it is only the pit and the leaves that are toxic which are not used in the making of the meal or oil.
Do not give your dog raw avocado & never let him near the pit.
Avoderm chicken meal & brown rice formula contain no artificial colors, or wheat derivatives.
Protein: 20% Fat: 10% Fiber: 6%
Tips for Senior Dogs with Sensitive Stomachs
When considering a change from your current brand to a more suitable brand for healthy senior dogs, compare ingredients labels.
Here are some tips to keep in mind when scouting around:
Some ingredients may cause a dietary intolerance, these usually include gluten, corn, wheat and heavy hard to digest meats. Instead, look for alternative ingredients such as venison, rabbit, turkey meal, chicken meal or duck meat and oats, to name but a few. If the meat ingredients are ground up in the recipe (meal) it would be a huge advantage.
In general, sensitive stomach dog food should contain a slightly higher amount of protein and fewer calories, but it should still create a sense of fullness. Keep in mind that that you should choose a senior food with less protein and fat when it comes to dogs with a decreased kidney function.
Fat is harder for your dog's stomach to digest than protein and carbohydrates. It can cause pancreatic inflammation and irritation in a dog's behavior. Look for a dog food brand that has a maximum fat content of 15%. A general rule of thumb: fat content between 8 and 12%.
If you would like to take a more holistic approach, be on the lookout for hydrolyzed proteins. These are natural animal proteins that are broken down for easy digestibility, which will help your dog's stomach cope with the processing of food more easily.
Vitamins A, E and C aid as antioxidants and selenium and beta carotene helps with osteoarthritis and vision.
Too much fiber in a dog's diet is not a good thing, but too little is not good either.
There are soluble and non-soluble fibers. A fiber to look out for is beet-pulp. Fiber relieves constipation. The ideal fiber content should be between 3 and 5%.
Other ingredients you can give two thumbs up include:
Flax seed oil or cod liver oil
Brewer's yeast
Brown rice
Brown rice is an excellent source of carbohydrate for dogs, especially when they have a weak stomach.
The above-mentioned oils are high in omega 3 & 6 that promotes shiny coats and the brewer's yeast aids in maintaining blood-sugar levels.
MSM, Glucosamine, and chondroitin sulfate supplements assist by soothing osteoarthritis symptoms.
Dog food preservatives, food coloring, and flavorings are all probable causes for a stomach issues. Finding a dog food that with more natural ingredients can be the best thing you can do for your aging pal!
If your aging dog is a quick eater, he/she might be gulping too much air while eating, causing flatulence. Divide your dogs' meals into smaller portions throughout the day, instead of one big portion. This will also assist the digestive system and give it time to process smaller amounts of food more efficiently.
It is extremely important, especially when switching to a new food, to slowly transition the current food type to the new food type.
All you need to do is to mix a little bit of the new dog food in with your current dog food. Over the course of 7 days, increase the new dog food portion size until your dog is 100% eating his new food.
Doing this allows a stomach time to slowly adjust to a new type of food, without having to send your buddy's digestive system into overload!
After the transition period, give your dog the new dog food only for 6 to 12 weeks.
During this period, keep an eye on your dog's behavior patterns for signs of discomfort and keep an eye on its stools, for signs of diarrhea or constipation.
Monitoring your pooch gives you an indication as to whether his stomach is having a good or bad reaction to the new type of dog food.
Avoid giving your furry buddy any greasy table scraps, even if it is chicken.
(it's a slippery slope)
Greasy foods can be harder on your dog's digestive system to break down and could cause more harm than good to that already touchy stomach.
Only give your dog easily digestible treats as a snack.
We can safely gather that older dogs:
Need fewer calories throughout the day.
Higher amounts of protein to sustain their energy levels.
A bit more fiber than usual to keep their digestive system fully functioning.
Provide a diet with very few ingredients, or have raw or whole food ingredients and are devoid of colors, flavorings and gluten or grain.
More natural ingredients = better!
Never let a dog with stomach issues each too much food too quickly and refrain from giving it greasy food to eat. Always have water at hand when your dog is eating its food.
Most of all, remember:
You can give your senior dog the best dog food on the market to take care of his health issues…but only you can give him the tender loving care (and time) he so rightly deserves in his old age!
Best Senior Dog Food for Arthritis
One of the most common health issues to affect older dogs (and humans) is arthritis.
Arthritis sets in when cartilage (the tissue that acts as a cushion between bones) wears away. This causes swelling, inflammation, and (ultimately) pain in joints.
The dogs most susceptible to this joint inflammation tend to be large breeds, like German Shepherds, Great Danes, and Rottweilers. But smaller dogs with exaggerated physical characteristics…

…..are also more prone than your average canine.
While there's no sure fire way to prevent it, there are things you can do to help your dog once this debilitating condition arrives, including:
But proper nutrition can also play an important part in your dog's treatment regimen. And here are our picks for best senior dry dog food for arthritis:
1. Hill's Science Diet Adult Healthy Mobility
No products found.
This offering in the mobility food category is much more reasonably priced…
we're talking about a third of the cost per pound
…and offers up glucosamine levels right on par with Purina, while including almost ten times the chondroitin that Royal Canin offers.
With the lowest protein levels of any of the foods, this may not be the best choice for relatively active arthritic dogs. But if your veterinarian is suggesting a lower protein diet due to early kidney disease, SD is the preferred choice over the more expensive offerings from Royal Canin and Purina.
2. Victor Dog Food Senior Healthy Weight Management
No products found.
If you're wary of big dog food brands, you can't go wrong with Victor.
All of their foods are grain-free. And without common filler ingredients like corn, soy, gluten, and grain by-products that trigger allergies in some dogs.
This beef based food has a moderate calorie count and protein content, making it a good choice for dogs that need to shed some weight. It's got more glucosamine than any of the other foods, and more chondroitin than Royal Canin.
In terms of ingredients and allergies, beef certainly isn't considered a novel protein (many dogs do have sensitivity to it), but if you know that your dog has an issue with gluten, this food is a good choice for keeping joint issues and allergies at bay.
Wrap-Up
They all offer some combination of glucosamine and omega-3 fatty acids, but these ingredients are not recognized as an essential nutrient by the AAFCO Dog Food Nutrient Profiles, and while their helpfulness is widely believed, benefits usually take a while to be seen.
Additionally, the amount of food your dog would have to eat to actually obtain the recommended dose of glucosamine from any of these foods would be nearly impossible, and certainly result in obesity.
If glucosamine intake is part of your arthritis treatment plan, you'll have to give your dog a separate supplement in addition to his regular food.
For this reason, our upgrade pick goes to the Victor Dog Food, for containing comparable values of glucosamine, chondroitin and omega 3 fatty acids for a lower price than any of the other dog food brands.
In this case, the cheaper price tag doesn't indicate a lower quality of food, and Victor actually contains fewer filler ingredients and common allergens (minus the beef) than the other foods on our list.
Victor's protein and fat ratio compared to calories is also more specifically formulated for weight maintenance, an important element of joint health management.
If your dog has a beef sensitivity, I recommend trying the Science Diet food.
The two are almost identical in calorie counts, but the increased amount of fillers and carbohydrates in Hill's compared to Victor mean that weight loss or healthy weight maintenance may be more difficult.
Is senior dog food necessary?
Yes. Senior dogs, just like elderly humans, have different digestive capabilities and regular dog food doesn't account for those differences.
How is senior dog food different?
Dog food for elderly dogs is formulated to meet the changing dietary needs of older dogs. It should contain less fat, less sodium, more fiber and either the same or slightly more protein than the regular kind of dog food.