Look no further for the best Canadian dog food! Including a detailed look into the 3 best Canadian dog food brands. Plus our puppy picks and a big ol' list of grain-free dog foods made in Canada.
In addition to maple syrup, poutine, and goose-down jackets, there's also something else we Canadians excel at, and that is making high-quality dog food!
With rising fears about ingredients being shipped in from Asia, you may be in the market for a pet food crafted a bit closer to home.
Just check out these excellent Canadian-made dog food brands that are taking the world by storm.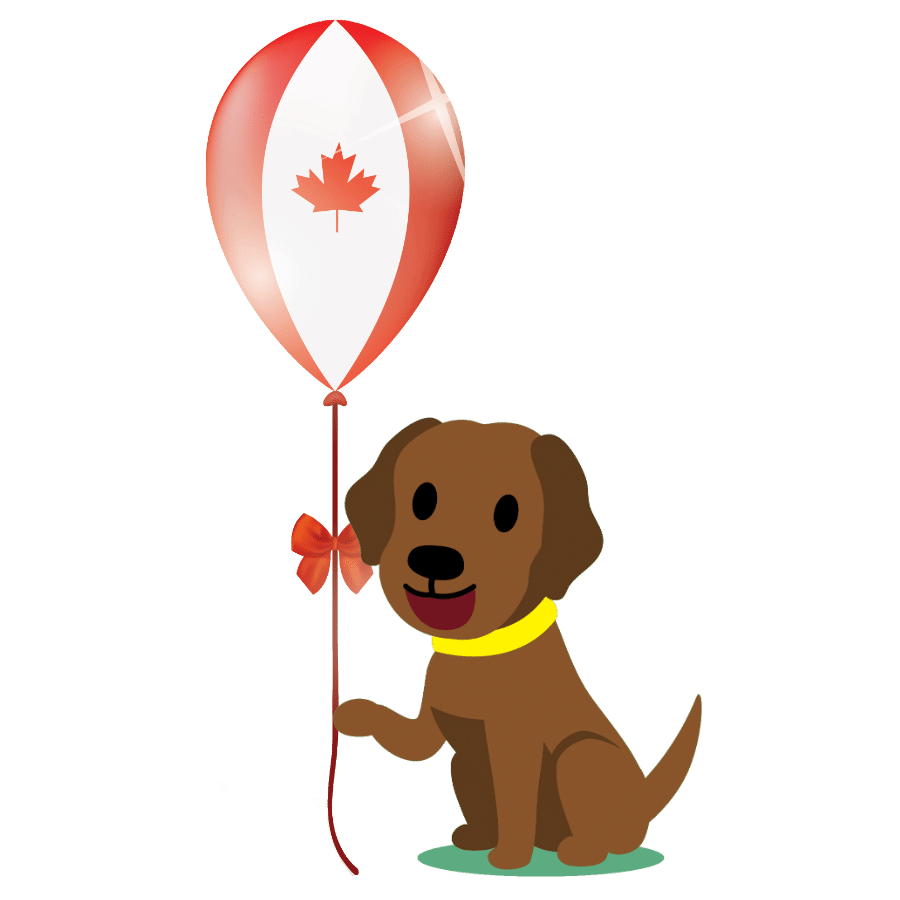 Best Dog Food Canada 2020
Best Fresh Dog Food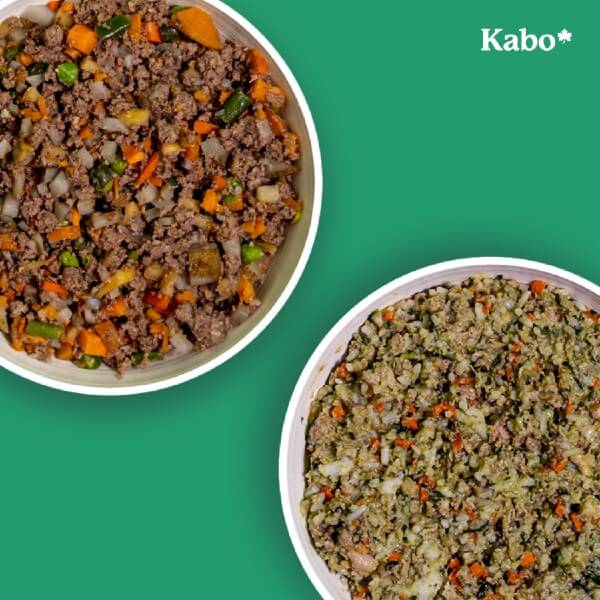 Kabo is blowing up the Canadian dog food scene during COVID-19 because they are locally sourced, locally made, and they deliver for FREE. Skip the grocery store, forget the foreign ingredients, cut the boring kibble & give Kabo a try today!
Kabo is hands-down the best Canadian dog food delivery service. Here's why:
Proudly Canadian
FREE Shipping
Fresh, human-grade dog food delivered to you
High quality ingredients from trusted Canadian farms
200+ 5★ TrustPilot reviews
200,000+ meals delivered
Dog owners around the globe are going nuts for this Canadian-born dog food. Here's what they're saying:
"The best dog food on the market."
and…
"Our dog has lived on this for a decade!"
Biologically Appropriate.
Fresh Regional Ingredients.
Never Outsourced. Canadian's Orijen might be the best dog food in the world.
Why Canadian Dog Food? Is it Better? Healthier? Safer?
If you live in Canada it seems obvious that buying local should be both cheaper and patriotic (drum roll).
But is it better, or safer?
Pet food brands that are global players and instantly recognizable, usually are very much in the public eye and, one would think, very careful about the quality of their product. It is therefore quite surprising to find that some of the best-known (and very expensive) brands have all been recalled at some stage.
…so it should be with some pride that Canadians can have a look at the list of dog foods that have been recalled since 2009 and find that the majority of those are NOT made by members of the Pet Food Association of Canada (PFAC).
Hallelujah! Buy Canadian!
Is Dog Food Regulated in Canada?
Yes. Here are some Canadian dog food regulations:
It is illegal to use Specified Risk Materials (mostly brains and other neural material) in animal feed including dog food.
Labeling and advertising are regulated by the Consumer Packaging and Labelling Act and the Competition Act.
PFAC members comply with manufacturing standards for nutrition as set out by the Association of American Feed Control Officials (AAFCO).
3 Canadian Dog Food Companies
At last check, there were 400+ animal food manufacturing establishments in Canada.
So how does anyone decide who are the best Canadian pet food companies?
What are the criteria?
Most sales?
Least Canadian dog food recalls?
Largest social media following (geez, I hope not)?
Consumer Canadian dog food reviews ("oooh, such a nice pic of a Golden Lab on the bag"…)?
The top four global companies according to percentage market share do not include any Canadians:
Mars Inc, USA (brand: Pedigree & Royal Canin)
Blue Buffalo Pet Products Inc, USA (brand: Blue Buffalo)
Nestlé SA, Switzerland (brand: Purina Dog Chow, manufactured by USA subsidiary)
Colgate-Palmolive Co, USA (Hill's Science Diet)
Choosing the best Canadian pet food companies on the basis of percentage market share is not helping us any. So let's go with a subjective list (so much for objectivity, but hey, let's play!).
Here are our picks for best Canadian dog food companies:
1. Champion Petfoods, "World's Best and Most-Awarded Pet Food"?
Champion Petfoods produces two very well-known brands that always seem to top the Canadian dog food ratings: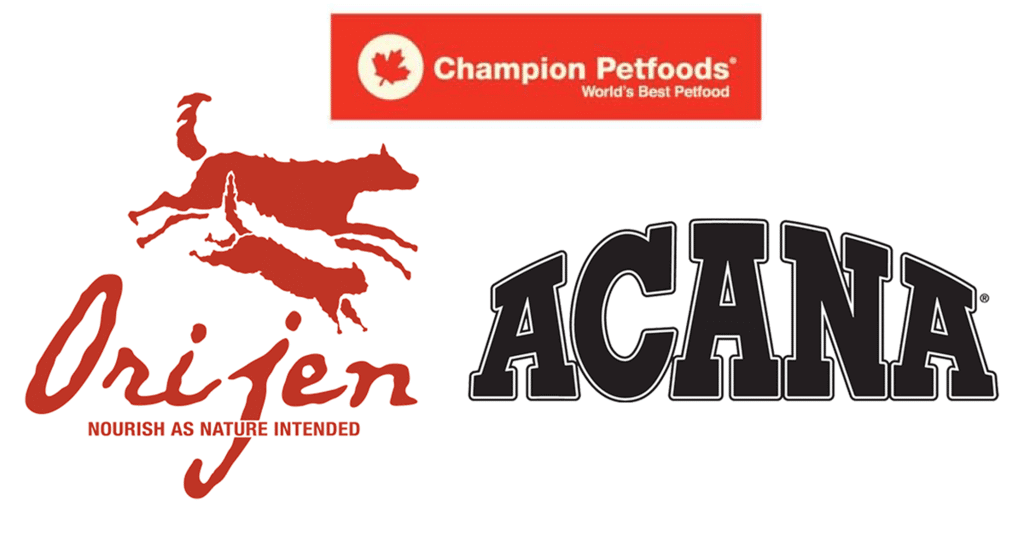 These 2 brands are enormously popular and recommended by many vets and breeders. And they do not manufacture food in a plant or factory but in a kitchen…
Their products are available in more than 80 countries so they can claim to be the world's "something" pet food. Searching for Made in Canada dog foods kicks out 18 items which include Acana but not Orijen. Huh?
They also claim to be the world's most awarded canine food manufacturer. But, of their many awards, only five seem to be for the quality of their foods as determined by some actual analysis or quality control criteria.
The rest is in other fields like business practices, employee and community issues, and market innovation, or based on popularity votes. Not that it makes the awards any less meritorious.
Looking at a list that did not do any laboratory testing but that was sure darn picky about what they read on the labels, Orijen and Arcana did not make it to the overall top five, but they did make the "Best Dry Dog Food" list.
One must concede that this list was based on dog foods for sale in the USA and online, not necessarily Canada, which is only the eighth-largest exporter of dog food in the world.
Champion Petfoods has also recently (2019) been named by the FDA (the U.S Food and Drug Administration) as one of the brands that may be linked to Dilated Cardiomyopathy (DCM) in dogs, a serious but rare heart condition.
They have responded extensively, and point out, as did most of the other brands named in the report, that there was no scientifically proven causation effect in the study.
(Private note: this study is a bit like the one many years ago where the numbers of roosting storks on the roofs of London were compared over several years with the number of human babies born that year, and lo, the numbers showed that when there were fewer storks, there were also fewer human babies. Does that prove that storks bring babies? No.)
The company is also the victim of class action lawsuits, some of which have been dismissed with prejudice (meaning the case can not be brought to court again) on the grounds of "no evidence". This is a huge feather in their cap.
This negative publicity is harmful even if all the allegations prove to be untrue.
It remains the best option for the dog owner to become educated regarding commercial pet food ingredients, labeling, and company transparency. There must be a reason why the company's brands win so many "most popular" voting polls.
If there really was a problem with their dog food consumers, breeders and vets would shout it out. These brands should be on your "first to try" list when looking for good dog food.
2. Petcurean
The parent company is 2Story Group Inc who also owns Napa Vineyard House and Old Yale Brewing.
Petcurean has a website with extensive information about everything concerning their products, as well as some general information on pet nutrition.
Their senior nutritionist is an accomplished scientist whose presence at the company sure gives me a lot of confidence in the quality of their products.
Current Petcurean dog food brands are:
Gather
Now Fresh
GO! Solutions
Spike
Summit
They are available in over 30 countries around the world.
They started in 1999, so they have been on the scene for 20+ years.
To date, they have only had one dog food recall, which was voluntary, and which was later reclassified by the FDA as "market withdrawal". It was in 2003 and the brand was made in Texas.
Buy Made in Canada dog food!!
Also named in the aforementioned FDA report on DCM, Petcurean supplies a detailed information site with scientific references on the physiology of elements in question (amino acids and food ingredients). Their reaction to the FDA report is markedly calm and collected in comparison to some of the other dog food companies.
Petcurean supplies a wealth of substantiated information about their dog foods, which are not cheap, but judging by its record and the certifications it definitely belongs on your "to try" list.
3. Horizon
Horizon dog food brands:
Taiga
Amicus
Complete
Legacy
Pulsar
Another company named in the FDA report on DCM. (Is there any dog food manufacturer out there who was not named?). Not much info on their website that is different from the others (locally sourced, fresh ingredients, wholesome, etc.)
It is a bit worrying that "chicken meal" is at the top or second in the list of their ingredients in their brands. While protein meal is a universally used ingredient in dog foods there are concerns about its origin and manufacture. It is stated by some reviewers that Horizon has a "mediocre amount of meat protein" in their products.
They never recalled any of their product lines since they started in 2006.
Their main attraction seems to be that, although they make the same claims about natural ingredients, etc. as many other manufacturers, they manage to sell their products at a better price.
Top Canadian Dog Food Brands on the Market
All of us tend to zone in on the brands we know. Naturally, you experiment with different brands when you first get a dog (or puppy) and try to get one that:
Is as optimally nutritional as possible
Is not frighteningly expensive, and
Your dog likes to eat.
Then we avoid the brands that the dog turns his back on, which makes him vomit, or that we read or hear bad reports about.
But usually, a pet food company will make more than one brand. So it might happen that your dog loves one brand and hates another and yet they are made by the same company.
Confusing?
A nice example is Canisource, the parent company. The brands of dog food they make are HomeMade and Grand Cru. The packaging looks different, and it would be easy to think that these two brands are made by two different companies.
The difference between "brand" and "company" may seem moot, but when you think about company ethics, company policies and such, it may be a good thing to ensure that the brand you prefer is not made by the same company that has a bad record where another of their brands is concerned.
Yes, one factory making one brand may make a mistake or two that the rest of the company's factories do not.
But is it a trend?
You will only know if you are aware of the different brands that are all made by one company. And somehow it seems wishful thinking that if one brand contains low-quality fillers and other horrors that other brands made by that company won't. And of course, we trust that the reverse is also true.
Canadian Puppy Food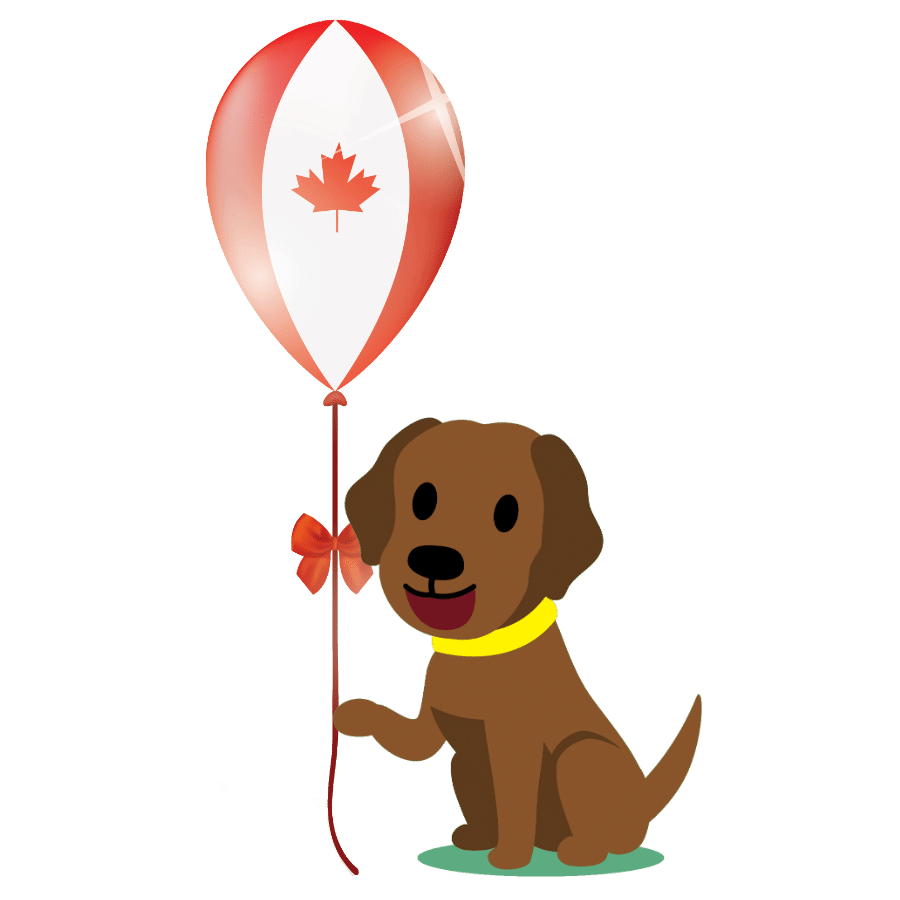 Do puppies need different food from adult dogs?
Yes, most certainly.
They need food that is easily digestible, nutrient-dense, and appropriate for their breed. Large breed puppies grow slower and need puppy food for longer than small breed puppies.
Puppy food should be fed up to spaying or neutering, thereafter switch to adult food.
No table scraps! Ever!
Don't bring up a fat puppy, you are not doing it a favor, exactly the opposite. You're setting it up for diabetes, arthritis, and heart disease.
Do not supplement in addition to what is already contained in the food unless you were advised to do so by your vet. Extra supplements can do puppies more harm than good.
Follow the advice on quantity and frequency of feeding, as well as other tips, given by the AKC.
Canadian dog food manufacturers make special foods for puppies as well. How do you decide which is best? It does depend on the individual puppy, there is no "one size fits all" that is the best brand.
To identify the top brands you need to look at basically the same criteria as for adult foods. That means ingredient quality, history of recalls, the reputation of the brand or company, and certification or compliance with regulatory requirements (e.g. AAFCO standards).
These are the ones that come up tops in the Canadian sector and are our picks for best Canadian puppy food:
Heritage Puppy and Junior Dog Food (Acana)
SubZero Puppy Fraser Valley (Nutrience)
Total Grain Free (Nutram)
These 3 brands have high-quality ingredients sourced sustainably and locally, are grain-free, and are high in protein.
All 3 are in the medium to expensive class. You are only going to feed it to your pup for a limited time, but one of the most important times in the life of your dog when it is still developing.
What your dog eats as a puppy is going to determine its health for the rest of its life. Spend the money now on the best food or later on vet bills…your choice!
Grain-Free Dog Food Canada
Here are our picks for best grain-free dog food Canada has to offer:
1. Petcurean NOW FRESH Dog Food
Varieties: Grain-Free Puppy, Grain-Free Senior, Grain-Free Fish Adult, Grain-Free Red Meat Adult, Grain-Free Small Breed Puppy, Grain-Free Small Breed Adult, Grain-Free Small Breed Senior, Grain-Free Large Breed Puppy, Grain-Free Large Breed Adult, Grain-Free Large Breed Senior.
Family-owned and operated since 1999, this proudly Canadian dog food company is obviously a big fan of providing customized nutrition for every pet.
Whether your dog is a mammoth-in-the-making or more closely resembles a mouse, you'll be able to find a grain-free dog food that was designed to meet your dog's unique needs.
And Petcurean doesn't only create customized dog food according to size, you can also find the formula that will meet your dog's needs depending on his current life stage (including puppy, adult, and senior).
The main message is that if you're a dog owner that loves choice then you'll be head over heels for Petcurean's NOW FRESH formulas.
Although you may be overwhelmed at the sheer number of varieties Petcurean offers, you don't have to worry too much about picking the wrong formulation.
Despite each variety being tailored to meet the needs of dogs of different sizes and ages, all formulas still have certain core benefits in common.
For example:
Every formula comes complete with the benefits of healthy plant and animal based fats. In fact, after switching your dog to NOW FRESH, you'll be impressed with how silky and shiny his coat has become.
And the reason your dog will have appeared to have just stepped out a hair salon is due to the addition of omega-3 and omega-6 fats from salmon, and beautifying saturated fats from coconut oil.
Also, don't discount the power of a dog food that can revitalize your dog's digestive tract. NOW FRESH comes equipped with high-fiber fruits and vegetables like pumpkin, apples, peas, and carrots that will keep Fido regular, while also supplying him with a hefty dose of antioxidants.
Plus, the addition of probiotics will ensure your pooch doesn't become overrun with bad bugs that could cause gas, digestive upset, and skin conditions like rashes or eczema.
Remember:
Your dog's oozing and red skin is actually just a manifestation of what's going on inside of his body, especially his digestive tract. A healthy digestive tract means a beautiful and healthy looking dog!
Overall, Petcurean's NOW FRESH dog food formulas are the perfect grain-free option for dogs of any life stage or breed.
Key Features:
Grain-Free: Free of wheat, rice, oats and other grains.
Moderate Protein: 26% protein from whole animal sources including turkey, salmon, and duck.
Digestive Health: High-fiber fruits and vegetables, combined with probiotics will keep your dog's gut healthy and happy.
Healthy Coat and Skin: Omega 3 from salmon and saturated fat from coconut oil will give your dog a shiny and silky coat.
Multiple Varieties: Petcurean offers a formulation for every life stage and every size of dog.
Proudly Canadian: Family-owned and operated since 1999.
2. Holistic Blend
Varieties: Grain-Free Blend, Grain-Free Marine 5
Maybe you've considered the raw food diet before because you've heard of all of the amazing health benefits your dog could experience eating a diet that was similar to what his wild ancestors would have eaten.
The only problem is you don't exactly have the time to spend your evenings separating liver and chicken breast into individual baggies.
The solution to your time-crunched schedule is Holistic Blend!
This Canadian owned and operated company has spent the time and effort to produce a kibble that contains all of the benefits of a raw food diet.
The reason raw food diets are all the rage right now is because they provide your dog with an extremely nutrient-dense diet that aligns with what his wolf cousins would have eaten.
Compared to conventional kibbles, which can be so overbaked that there's hardly any nutrition left in it, a raw diet provides nutrition that is easily absorbed by your dog's digestive system.
Holistic Blend gives you all the benefits of raw by cooking their kibble at a low temperature to ensure none of that nutrition is lost! Also, they only use human-grade ingredients so you won't have to worry about your dog eating animal byproducts or other unappealing parts that were unfit for human consumption.
Another benefit of Holistic Blend is that it is perfect for dogs that experience inflammation, whether that be an itchy skin condition or painful joints. By buying Holistic Blends, you'll be providing your dog with anti-inflammatory spices like turmeric and cinnamon, while also turning off pro-inflammatory signals using omega-3 fats.
Less inflammation means less pain and a happier and healthier pet! Plus, all of those omega-3s will inevitably give your favourite pooch a soft and silky coat that is bound to turn heads during your next trip to the dog park.
Overall, Holistic Blend is a great option for pet owners who want the benefits of a raw diet without the hassle. The bevy of bioavailable nutrients combined with anti-inflammatory ingredients will reduce pain and inflammation in your favourite four-legged best friend.
Key Features:
Grain-Free: Free of wheat, rice, oats and other grains.
High Protein: 38% protein from turkey and salmon.
Healthy Coat and Skin: Omega 3 from salmon will give your dog a shiny and silky coat.
Bioavailable Nutrition: Human-grade ingredients combined with a low-temp cooking process gives your dog the benefits of a raw food diet.
Anti-inflammatory: A high omega-3 fat content, combined with anti-inflammatory spices like turmeric and cinnamon, will reduce inflammation and pain in your dog's body.
Hypoallergenic Formula: Using unconventional meat sources like turkey and salmon is a great option for dogs who have developed sensitivities to chicken, beef, and pork.
Proudly Canadian: Family-owned and operated since 1993. All ingredients are sourced from Canada, the US, or New Zealand.
3. Horizon Legacy (Again)
Varieties: Legacy Adult, Legacy Fish, Legacy Puppy.
If you're looking for a food that will nourish your dog's gut then look no further than Horizon's Legacy formulations.
This Saskatchewan-based company knows that a healthy digestive system equals a healthy and happy dog.
Unlike other dog food companies that add a couple of ingredients to 'pad the label' in an attempt to lure dog owners in, Horizon has gone the full mile by creating a well-rounded and comprehensive formula that covers all the bases needed for a healthy gut.
First of all, you won't have to worry about canine constipation anymore because Horizon's high-fiber content from fruits and vegetables means Fido will be experiencing regular bowel movements. Plus, all that fiber and the addition of prebiotics will feed the good bacteria that hang out in your dog's digestive tract, which are needed to properly absorb the nutrients your dog eats from his food.
In addition, Horizon has added probiotics to ensure your pup is being populated with only the best bacteria.
By adding enzymes and yucca (an herb), Horizons is ensuring that your dog is able to fully break down the food he's eating. Remember, you're not what you eat, you're what you absorb! Enzymes will help your dog digest his food so that he can absorb the nutrition from it, while also preventing undigested food from causing painful and irritating tummy troubles.
Finally, if you've always wanted your dog to have fur that resembled the hair of a young maiden out of a fairy tale, then definitely consider going with Horizon's Legacy formula.
When it comes to skin and coat health, fat is your dog's best friend.
The combination of omega-3s from salmon oil and flaxseed, and the saturated fat from chicken will give your dog's body everything it needs to create a beautifully brilliant coat.
To be clear, Horizons Legacy is a gut-nourishing formulation that will keep your favourite furry friend regular, while gifting him with a beautiful coat.
Key Features:
Grain-Free: Free of wheat, rice, oats and other grains.
High Protein: 34% protein from chicken, turkey, and salmon.
Digestive Health: A combination of high-fiber fruits and vegetables, yucca, probiotics, prebiotics, and enzymes to create a digestion of steel.
Healthy Coat and Skin: Omega 3 from salmon and flaxseed will give your dog a shiny and silky coat.
Proudly Canadian: Family-owned and operated since 2007, and based in Saskatchewan.
4. Nutreco Wholesome Blend
Varieties: Salmon Large Breed, Salmon Adult Dog, Turkey and Duck Adult Dog, Red Meat Adult Dog.
As our dogs get older, it can be harder to find a food that works with their changing and aging bodies.
When he was younger your dog could eat just about anything and still have energy to burn, but he now seems to have become a bit more sensitive with age, and eating the wrong food can send him into a lethargic and gassy tailspin.
The answer to your aging dog's new nutritional needs is to drop the low-quality dog kibble, and opt for something that is nutritious and designed for the aging canine.
Consider Nutreco's Wholesome Blend as the perfect option for your elderly canine.
This high protein food will give your dog's body the building blocks it needs to retain lean muscle, without an excessive amount of carbohydrates that could lead to too much fat being put on.
Remember, just like people, dogs can gain weight as they get older too due to a slower metabolism and lower activity levels. All of that protein will give your dog a zest for life that will keep him playing fetch long into his golden years.
At the same time, Nutreco supplies your aging pooch with nutrients that will directly nourish his joints and reduce painful inflammation in his body. The addition of glucosamine and chondroitin will help build up tissue and cartilage between joints that are starting to grind together due to wear and tear.
And omega-3 fats from fish will help turn down painful inflammation in the body that could be caused by arthritis.
Finally, Nutreco is a great option for older dogs that have become more sensitive to food with age. Many dogs are now developing allergies and sensitivities to commonly used proteins like chicken, beef, and pork, so these popular meats are no longer an option.
Fortunately, Nutreco has opted to use more unconventional proteins in their formulations including fish, turkey, and duck, which are unlikely to cause a reaction in sensitive dogs.
The bottom line is Nutreco's Wholesome Blend is a great grain-free option for senior and aging dogs who need wholesome nutrition with joint support so that they can live an active and vibrant life well into their golden years.
Key Features:
Grain-Free: Free of wheat, rice, oats and other grains.
High Protein: 31% protein from turkey, duck, and salmon.
Healthy Coat and Skin: Omega 3 from salmon, and monounsaturated fats from olive oil will give your dog a beautiful coat.
Joint Health: Glucosamine, chondroitin, and omega-3 fats help repair joint damage and reduce inflammation in the body.
Hypoallergenic "Surf" Formula: Using unconventional meat sources like turkey and salmon is a great option for dogs who have developed sensitivities to chicken, beef, and pork,
Proudly Canadian: A Canadian company based in St.Mary's Ontario since 1983.
Even More Canadian Dog Food Brands
And if the deep-dive into the foods above didn't reveal the one you're looking for, here are even more Canadian dog food brands:
Acana
Boreal
Canadian Naturals
FirstMate
go! Holistic Blend
Homemade Pet Food
Horizon Amicus
Horizon Complete
Horizon Pulsar
Lifetime
Naturally Fresh
Now Fresh
Nutram
Nutrience
Orijen
Performatrin
Petkind
Proseries
Royal Canin
Satori
Summit
Wholesome Blend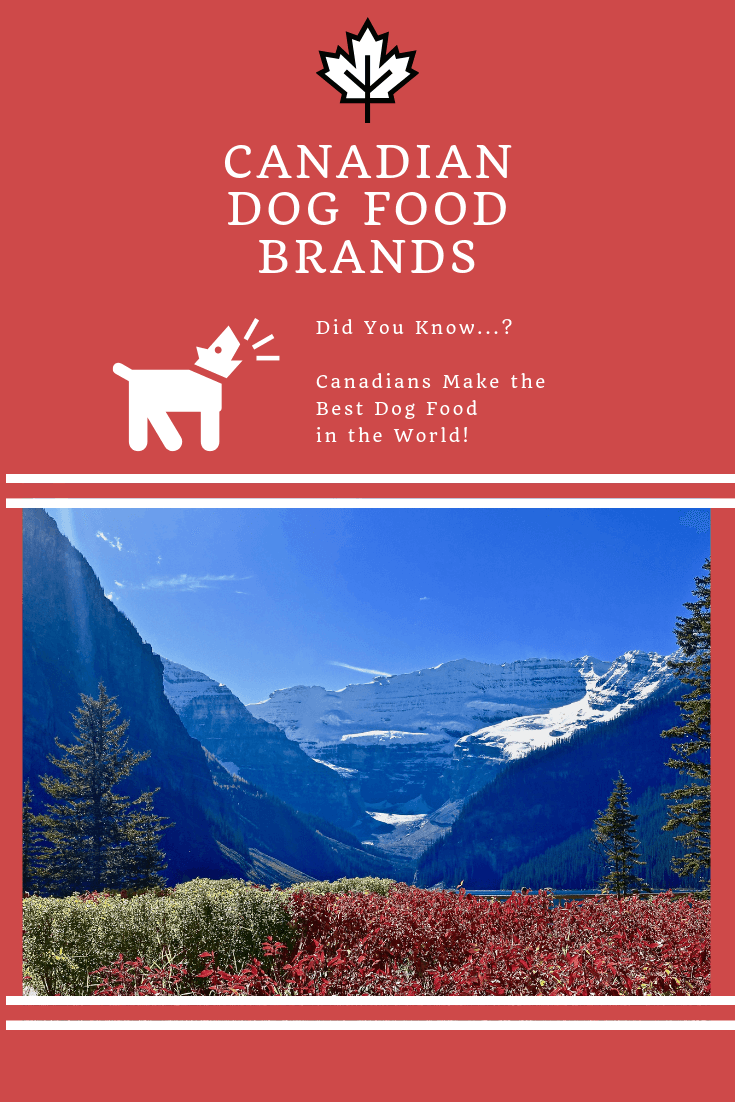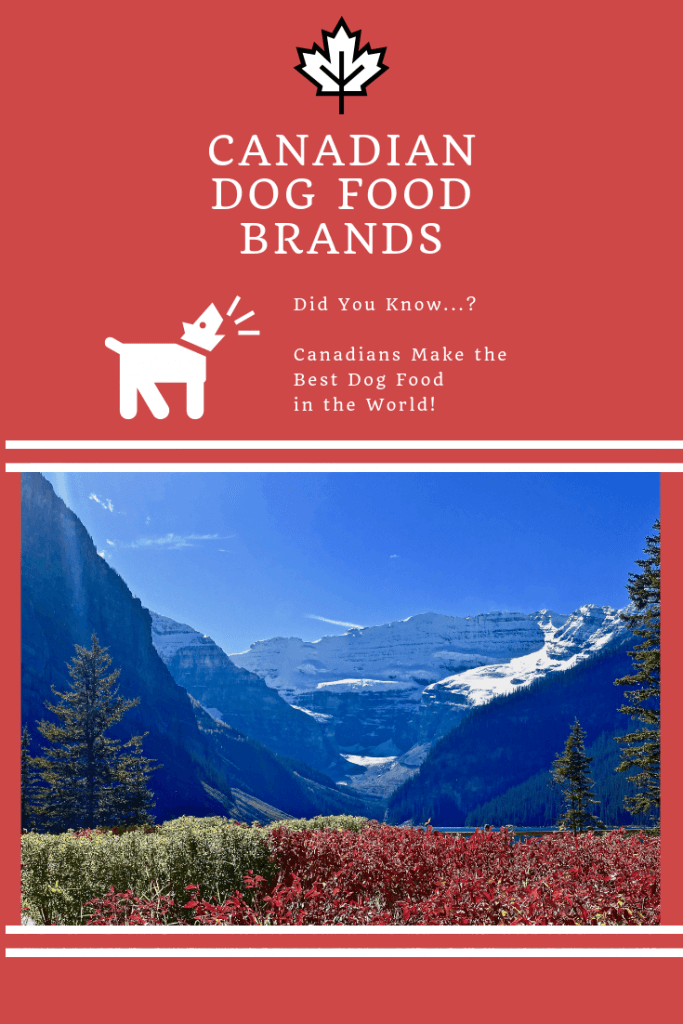 Related Reading