Quick question for you: what are the only 3 things more valuable than money? I'll go first – family, health and time. And if you're anything like me, you consider your dogs more family than…well, most of your family. #sorrynotsorry
It's safe to assume (scroll down for scientific proof) that fresh dog food is healthier for your best friend than kibble…but who has the time to research, buy, prep, cook, rinse sanitize, and repeat?!
Well, prepare to recapture your time and improve your dog's health because I'm about to introduce you to fresh dog food, Canada!
A few years ago, even thinking the words "best Canadian dog food delivery" seemed as futuristic as personal space travel.
But today?
Today, the best fresh Canadian dog food is a lifesaver in a world where it's simply not safe to shop like we used to.
Here's the best fresh dog food Canada has to offer, delivered right to your doorstep…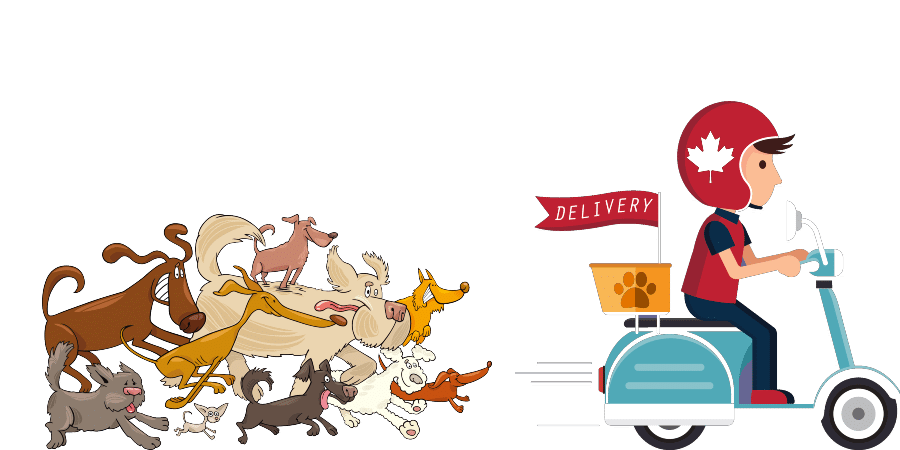 Best Canadian Dog Food Delivery 2020
#1 Pick!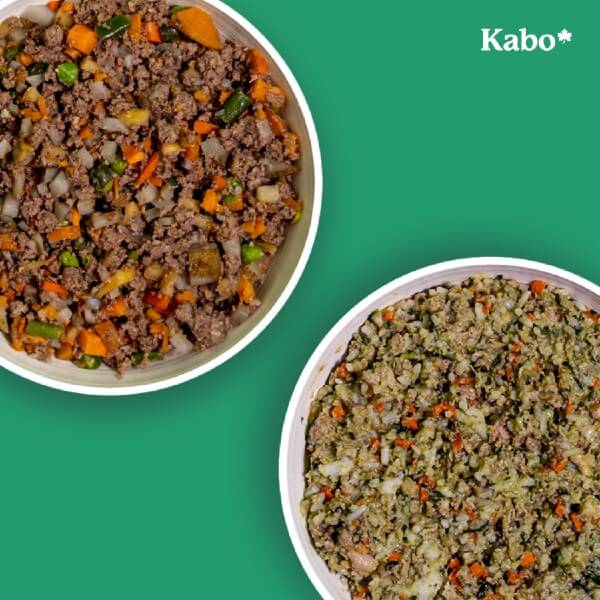 Best dog food ever! My dogs give it 8 paws up..would give more but that is all they have! My dogs love it and it is very convenient as it comes portioned out in daily amount. I also like that it is locally sourced which is very important to me. Plus it is human grade. I highly recommend it!
Kabo is hands-down the best Canadian dog food delivery service. Here's why:
Proudly Canadian
FREE Shipping
Nutritionist-formulated human-grade recipes
High quality ingredients from trusted Canadian farms
200+ 5★ TrustPilot reviews (read all reviews)
200,000+ meals delivered
Philosophy
Kabo is a fresh Canadian dog food company with a simple philosophy:
"We operate on the core belief that feeding our pets well is the best approach to ensuring a long, happy life."

– Kabo.co
Those words hit home with me (and my house full of dogs), but how does this fresh dog food company deliver on their core belief?
It all starts with Belgian and Boilermaker science…
The Science Behind a Fresh Dog Food Diet
A study by Belgian researchers tested how variables directly controlled by the owner affected a dog's life expectancy. Specifically, they tested:
Housing and family consideration
Sterilization (spay/neuter)
Diet
The researches found that diet is, by far, the most important variable in increasing (or reducing) a dog's lifespan. Here is Dr. Lippert's conclusion from their statistical study:
"Our study shows that for food, the animal fed with home made food (based on similar food as the family) reach an average of 13.1 years, as the animals fed with canned industrial food, reach an average of 10.4 years. The animals fed with mixed food (home made plus canned food) reach an average of 11.4 years.

The difference between these two extremes amounts to more than 32 months, i.e. close to 3 years. This great difference shows that food is a major and determinant factor for the dogs' life expectancy. Giving it home made food is a guarantee for better protection, well being and longer life expectancy."

– Dr. Gerard Lippert & Bruno Sapy (Belgian researchers)
That. Is. Astonishing.
But why haven't we heard more about fresh dog food if it can possibly buy us as much as 3 extra years with our best friends?
Because #bigkibble is big business. I have a stinking suspicion that the highly publicized studies are also the studies funded by the biggest dog food brands.
Alright alright, enough with the conspiracy theory blame game already. Let's just be happy that Kabo is doing something about it!
So getting back to the study.
My favorite part?
You can still give your dog a shot at another year or so of life just by feeding her fresh food some of the time. And Kabo has you covered there because they offer topper meal plans.
What's a topper, you ask?
Think of it like a condiment that you can mix in with your dog's other food.
Oh yeah, I almost forgot. Boilermaker science?
A Purdue University (go Boilermakers!) study found that adding vegetables to your dog's diet as few as 3 days per week can significantly reduce her chance of fatal cancers.
Ok, so fresh Canadian dog food is the best thing for your dog since y-o-u came into her life…but you can't just snap your fingers and come up with the magic recipe.
Exactly right, so Kabo called in the big guns for that part. Namely, they have an in-house a R&D Scientist/Companion Animal Nutritionist with a degree in Bachelor of Science in Animal Bioscience and a Master of Science in Veterinary Nutrition and Toxicology.
You know what that sounds like?
That sounds like a-whole-lotta EXACTLY THE PERSON I WANT TO MAKE MY DOG'S FOOD!!!
Kabo puts it much more eloquently on their website:

The science doesn't stop there, my friend. Check out how Kabo is revolutionizing the canine customer journey.
The Simplest Fresh Dog Food Delivery Canada Can Order Today!
The Kabo experience is a simple, but customized, one:
Order
Customer Service
Delivery
Customized, like how? Like my dog's name on the package?
Well yes, actually…but more on delivery in a minute.
First, I want to talk about the ordering process.
What's that? Ordering is boring, you say? Not anymore, dog lover!
You're not just a number to them because Kabo is literally putting a name to your dog's order. When you click that big red button above, here's how you'll be greeted: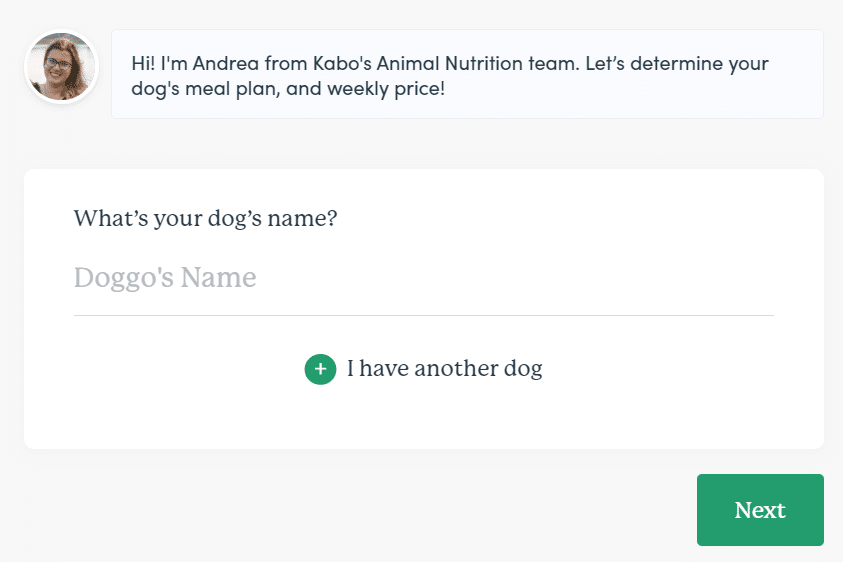 Pretty inviting, eh?
Go ahead and enter your dog('s) name in the box and hit "Next".
The next step is super cool, because free tip of the day #1: different dog breeds have different dietary needs. (but you probably already knew that because you're not feeding that Kibbles 'N Bits junk, you're actively looking to provide a better life).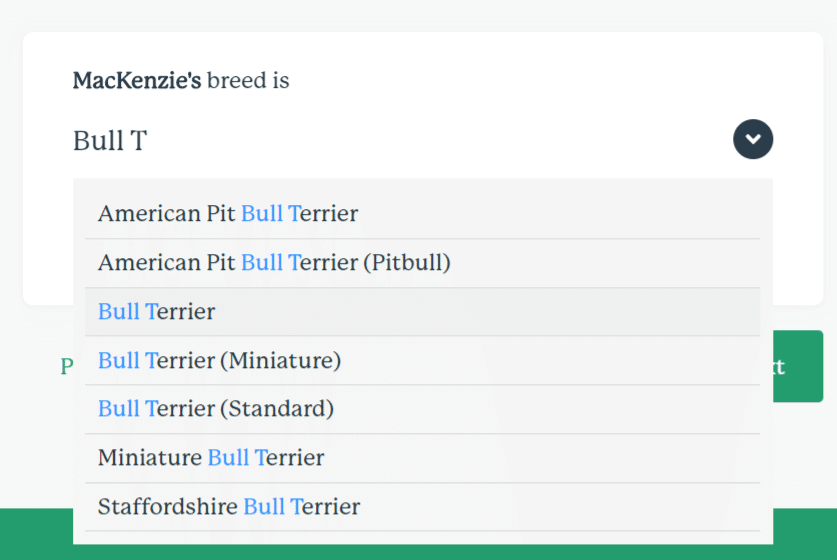 My screenshot covered it up, but there's even a checkbox for "Breed not listed or unknown mix". I wanted to point that out for all of you "the best breed is rescued" people that like to shame me for having a site about dog breeds. 😉
Dog's name? ✔
Dog's breed? ✔
What else is a super important consideration when deciding what to feed dogs?
You're spot on if you guessed age…because puppies don't eat the same as adults who don't eat the same as senior dogs. #itisknown
Here is the third step: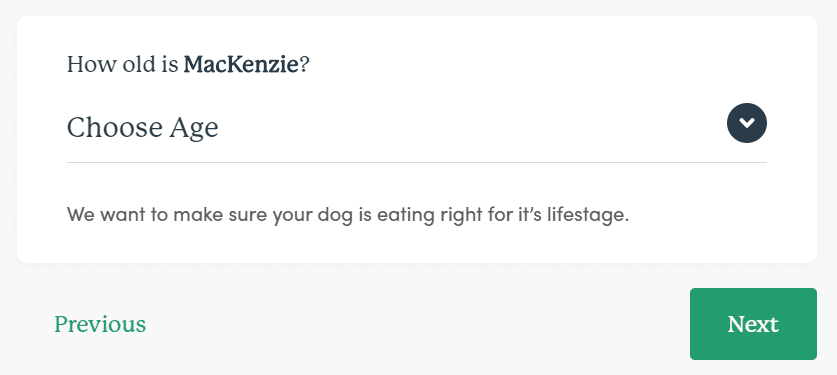 Also important?
Your dog's gender, weight, body type and activity level.
Here are those final steps to calculate your dog's perfect nutrition plan:
Now, because my English teacher taught me to draaaaaaaaawwwww things out for suspense-making, you might be thinking this process takes at least 15 minutes.
Guess again!
2-3 minutes, tops.
Let's hit the pause button and think about that for a second…
Click this link, give Kabo 2 minutes of your time and they'll calculate the right caloric intake required for your dog's life stage. When is the last time your current dog food provider offered to do anything remotely that generous?
Here's a meaty tip: Even if you have zero interest in switching dog foods, click the link anyway, answer the questions anyway and take the free report (no email required) on how many calories your dog should be getting per day. Then find your current dog food on this handy chart and adjust as necessary.
Kabo = Best Canadian Dog Food Delivery
Have you ever ordered Hello Fresh or Chefs Plate for your family meals?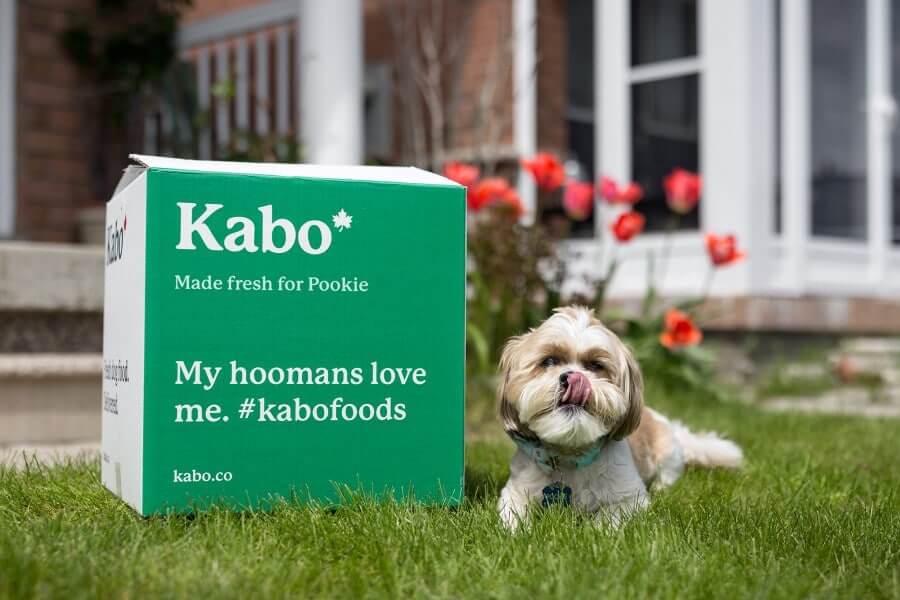 Well Kabo shows up on your doorstep exactly like that!
And when it arrives, your dog(s) will be showing off to the neighbor dogs like…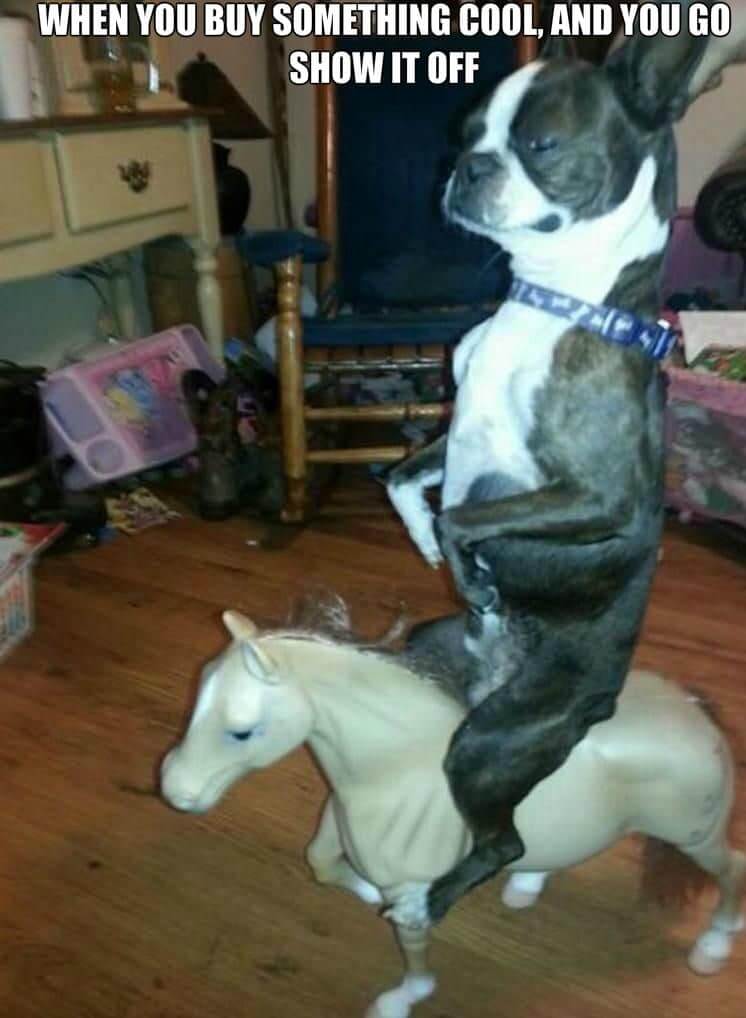 Inside the box, your dog's portioned meals are flash-frozen and packed in a vacuum sealed bag.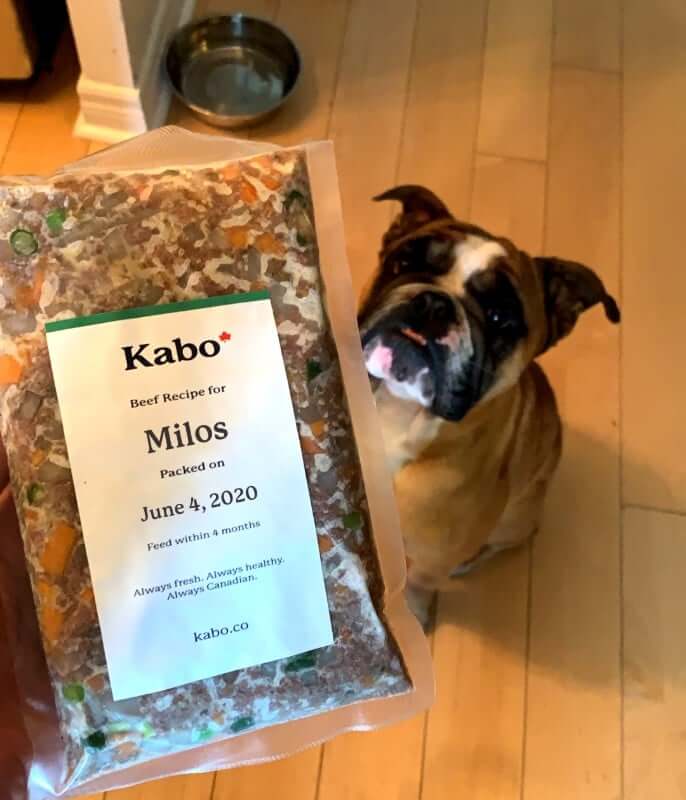 The boxes are insulated and kept frozen with gel refrigerant bags. All 100% recyclable.
Wanna know the best part?
Kabo dog food shipping is free!
Remember how mad you were when your Hello Fresh shipments stopped being free?
Where does Kabo deliver to?
As of writing this, you can get Kabo fresh dog food delivered to:
Ontario
British Columbia
Montreal
Winnipeg
Calgary
Kabo Ingredients: This is the Best Human Grade Dog Food, Canada!
What is the most important thing in any dog food?
Ingredients
Ingredients, and
INGREDIENTS!
Unfortunately, some dog food companies are sneaky about their ingredients in order to save a buck. For example…
Did you know that some dog foods contain "by-products" that are left to stew in a heap of meaty scraps for hours before being refrigerated? Some dog food companies even use by-product meals from road kill, zoo animals, diseased livestock, and even other euthanized cats and dogs.
Ummmmmmmmmmm.
I don't know which thought is more disturbing:
My dog eating road kill. Has he?!?! 🤢
My dog licking my face after eating road kill. 🤮
What about Kabo – do they dabble in diseased livestock or euthanized cat ingredients?
Not. Even. Close.
Kabo recipes provide all the nutrients your dog requires using fresh ingredients from the same place that our favorite restaurants get their stuff. Absolutely zero harmful additives or chemicals that are found in popular dog foods on the market today.
The result?
Kabo is the freshest human grade dog food Canada has to offer.
No sneaky stuff here because Kabo is 100% transparent about what goes into their dog food (and why). Take a look at how simple their ingredient labels are: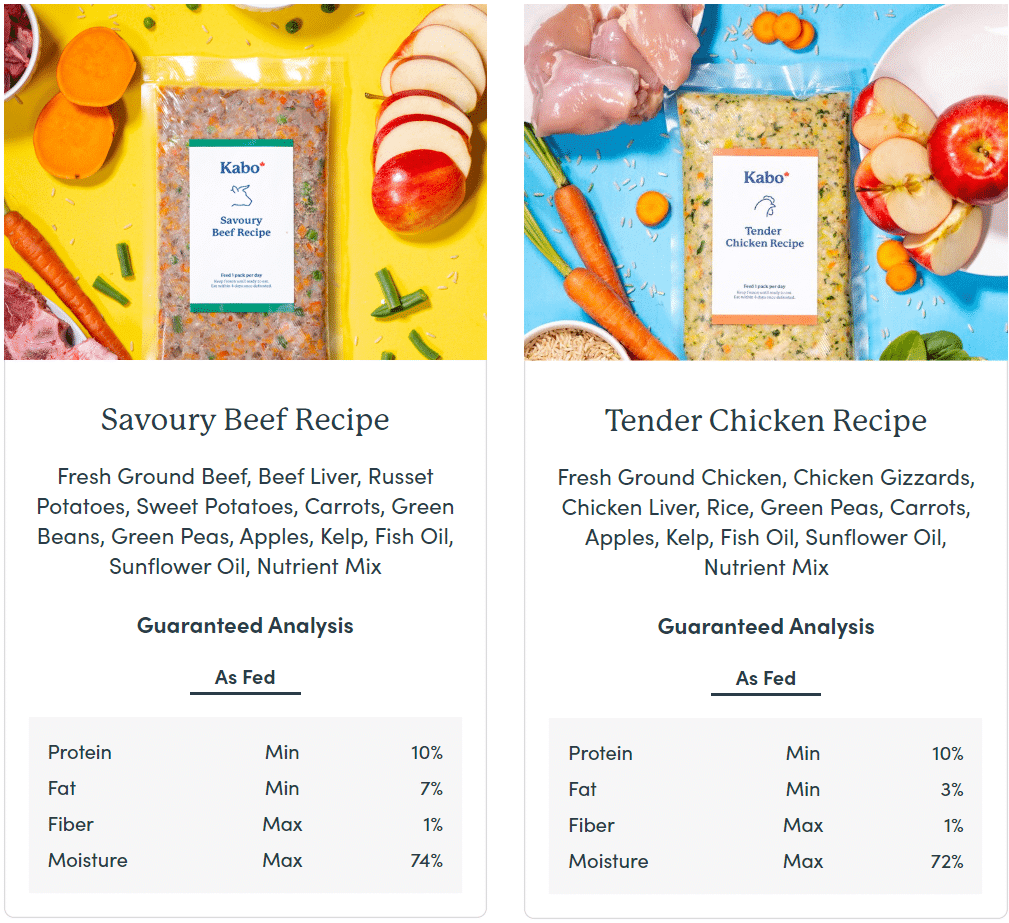 If you see anything in those recipes that makes you go "whaaaa?!", just hop over to Kabo's "About Our Food" page where they provide a line-by-line breakdown of each and every ingredient's purpose.
I don't know you, but I feel no shame letting you know that looks appetizing to my human eyes. I'd probably opt for the savoury beef first. Seriously, throw that in a bowl and I'm not sure that I could confidently tell the difference between Kabo and a $15 bowl of Whole Foods soup.
Ok, back to the ingredients. This is a premium lineup. Here are 3 reasons why:
The first ingredient in any dog food should always be a real, named meat. These recipes have real meats as the first 2-3 ingredients.

You know what every ingredient is. You can pronounce every ingredient. That may seem like a funny way to rate dog foods, but have you ever heard of "propylene glycol"? It's

the fancy way of saying "antifreeze for your car that is sometimes included in dog food". Now understand the importance of knowing what every ingredient is?!
Each recipe has only about 12 ingredients total. Less ingredient dog food = better dog food.
You know what dog food doesn't have 12 total ingredients? This dog food that I found in my *ahem* neighbor's dog food pantry: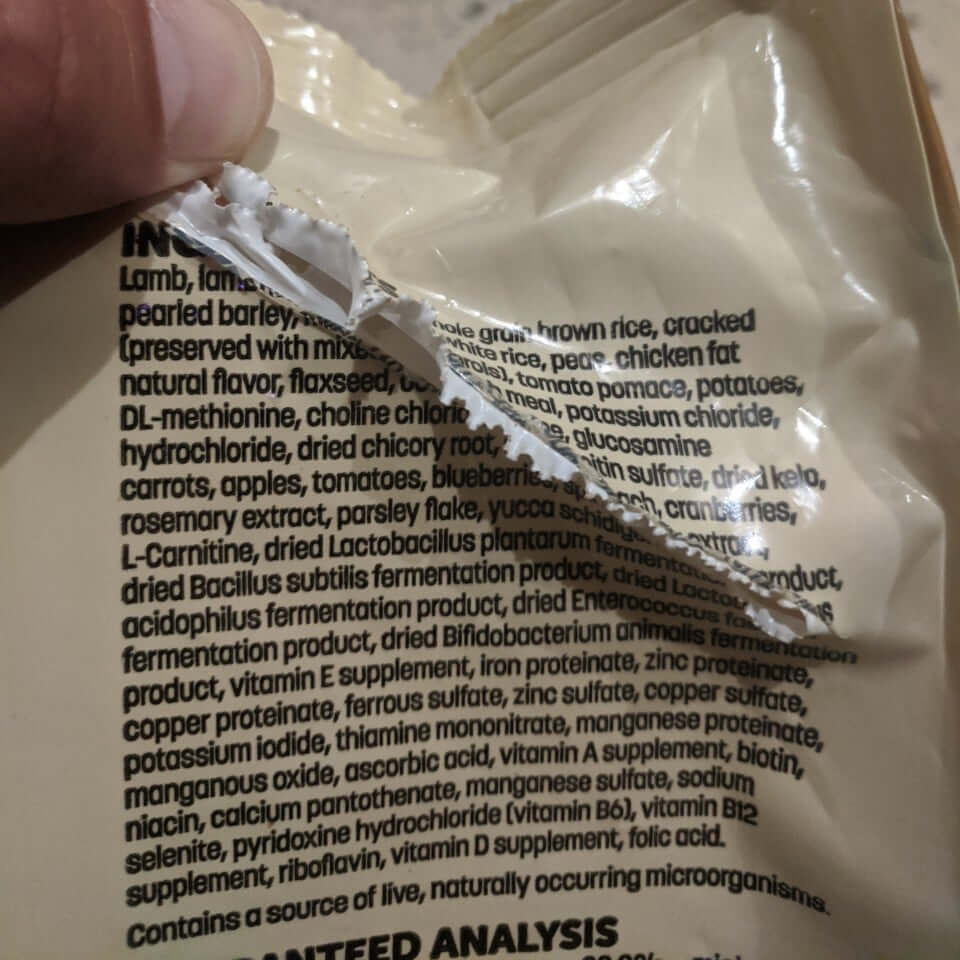 That's like a bajillion freaking ingredients!
And just like a cheap outsourced blog writer, the extra ingredients usually amount to fluff, or filler to fill your dog up.
That's all well and good, but where does Kabo source their ingredients from?
Where else, but right in your backyard!
"We partner with local Ontario farms to source only the freshest meat and produce. Our ingredients are human-grade and come from the same place as restaurants get their goods!"

– Kabo.co
Kibble vs. Kabo – What's the Difference?
The simplest way to compare dry dog food and fresh dog food?
Have a look: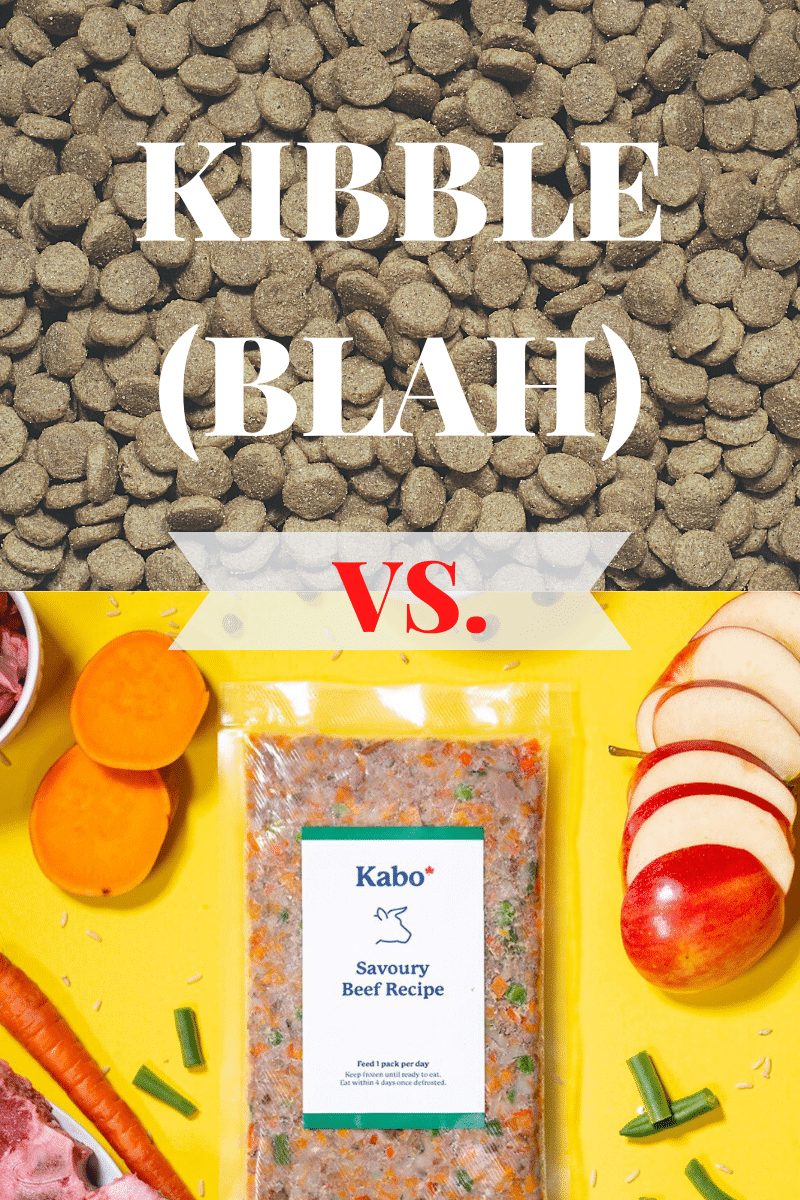 The graphic speaks to me. And here's what it says:
Kabo can be consumed by you and I. Enjoyably.
Kibble can be consumed by you and I. …for an Internet challenge intended to raise money. Remember: more gag-reflexes = more money.
But who cares about the human perspective. Hit the play button to find out if Mango and his handsome lip lettuce chose kibble or Kabo…
'nuff said.
Oh heck, here are some more Kabo videos just for fun. Disclaimer: no blaming me if you're still watching half an hour from now.